Proposed SR 30 is topic of public hearing Saturday, May 11
Roadway would travel west of Loop 202, south of I-10 in southwest Valley
May 7, 2019
PHOENIX – You can learn more about plans for a future State Route 30 in the southwest Valley at an Arizona Department of Transportation open house public hearing in Avondale on Saturday, May 11.
The public is invited to review and comment on study findings for SR 30, a planned east-west roadway traveling 13 miles between Loop 202 and Loop 303. The recommended alignment of SR 30 is approximately 4 miles south of and parallel to Interstate 10.
The SR 30 public hearing is scheduled as follows:
When: 11 a.m. to 5 p.m. Saturday, May 11
Where: La Joya Community High School
11650 W. Whyman Ave.
Avondale 85323
Attendees can stop by the learn more about the SR 30 study. ADOT's SR 30 team will conduct two identical presentations – the first at 11 a.m. and the second at 2 p.m., followed by opportunities for people to provide public comments of up to three minutes to a study panel. The event also will include an interactive animation of the proposed SR 30.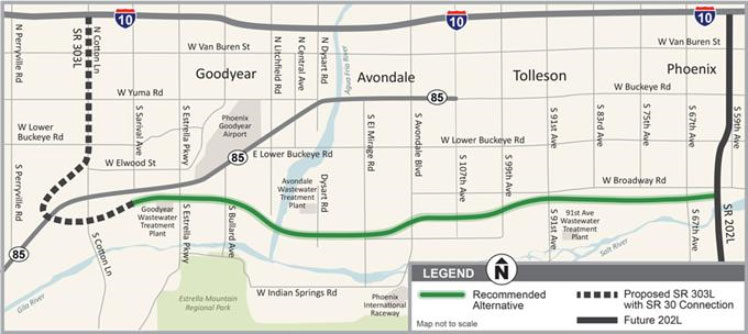 If given final approval, a schedule for constructing SR 30 would be determined by the Maricopa Association of Governments, which oversees the Phoenix area's Regional Transportation Plan.
The SR 30 study will include the completion of a draft environmental assessment and design concept report, including an evaluation of the recommended roadway alignment as well as a "no build" alternative. The study documents, as well as a list of locations where they can be reviewed in person, are available at azdot.gov/SR30. The study's public review period will continue through June 3.
Those who cannot attend the public hearing on Saturday in Avondale can submit comments via email at [email protected], by telephone at 855.712.8530, online at azdot.gov/SR30 or in writing to ADOT Community Relations, ATTN SR 30 Study, 1655 W. Jackson St., Mail Drop 126F, Phoenix, AZ 85007.