Spring breakers: Slow your roll on the roads, make Mom proud
March is the deadliest driving month of the year
March 4, 2016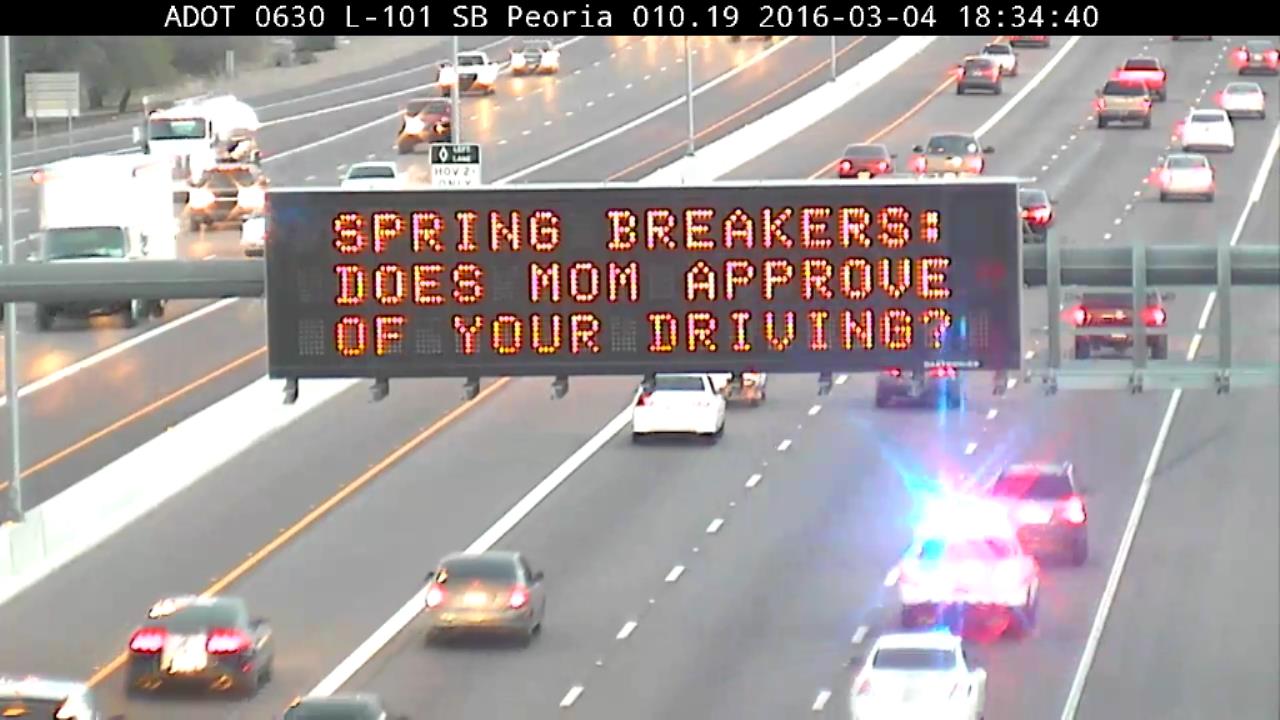 PHOENIX – Over the next few weeks, thousands will take to Arizona's highways for spring break getaways. Classmates, friends, fraternity brothers, 20-somethings looking to get away from the grind will drive to destinations that are sunny or snowy, relaxing or adventurous, luxurious or frugal and everywhere in between.
At the Arizona Department of Transportation, we want spring breakers to enjoy their escapes. More importantly, we want them to make it home safely. But there's reason to worry that too many will not.
From 2012 to 2014, March was the deadliest month on Arizona roads with a total of 213 fatal crashes, according to ADOT's Arizona Motor Vehicle Crash Facts Report, which includes crash information from state highways and local roads. Data from 2015 hasn't been finalized.
That's why many of our overhead message boards on highways are carrying the following safety messages for spring breakers and for drivers and passengers of all ages. They'll be up from Friday afternoons through Sunday evenings:
SPRING BREAKERS:
SLOW YOUR ROLL
ARRIVE ALIVE
SPRING BREAKERS:
DOES MOM APPROVE
OF YOUR DRIVING?
Safe driving saves lives, and we all share the responsibility. Speeding, alcohol and failing to use seat belts are among the leading causes of traffic fatalities in Arizona. Each is preventable by choosing not to speed, to buckle up, to not drive drunk.
We hope everyone takes these messages to heart. We hope these messages prompt conversations about safe driving.