In Yuma, eastbound I-8 ramps at Araby Road closing until September
New interchange to be completed by November
August 8, 2018
PHOENIX – Eastbound Interstate 8 entry and exit ramps at Araby Road (State Route 195) in Yuma will be closed for a month beginning next week as crews construct a new retaining wall as part of an Arizona Department of Transportation project upgrading the interchange.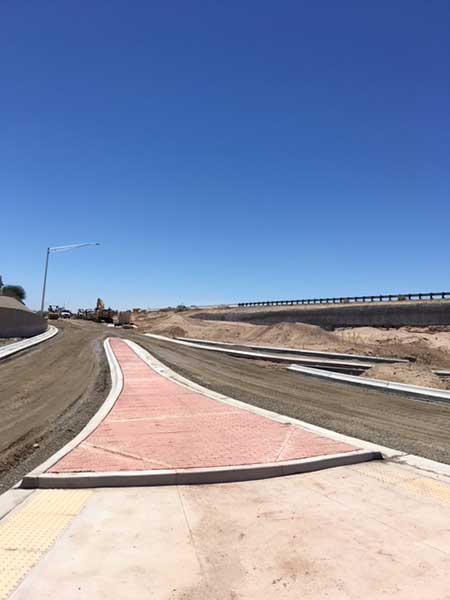 I-8 drivers can use exits at Avenue 3E, Avenue 8½ E and 32nd Street during the closure scheduled to begin Monday, Aug. 13.
Araby Road remains limited to one lane in each direction between 26th and 30th streets near I-8, with no left turn from northbound Araby to Gila Ridge Road. The maximum vehicle width on Araby Road is 12 feet.
Also on Monday, Aug. 13, the westbound lane of Gila Ridge Road, closed since May, will reopen between Araby and the Tanimura and Antle Produce building at 6435 Gila Ridge Road.
ADOT is completing the second half of a project to replace traditional traffic signals with modern roundabouts at the Araby Road interchange. The roundabouts, which are safer and move traffic more efficiently than traffic signals, will be large enough to accommodate large trucks, recreational vehicles and agricultural equipment.
A roundabout on the north side of I-8 was completed in 2017. The current work south of I-8 is scheduled to be complete this fall.