1.8 million-pound oversize load set to move through Arizona
1.8 million-pound oversize load set to move through Arizona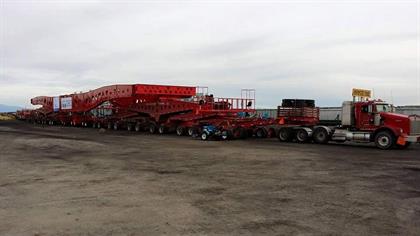 What weighs 1.8 million pounds, measures 412 feet long and moves at about 12 miles per hour?
If you guessed the oversize load making its way through Arizona this week, you are correct!
A really big transformer will be entering the state on Friday (Oct. 30) at the Arizona/New Mexico state line on US 64 and will travel (slowly) west to US 160 before heading north on BIA-12 (formerly US 191) into Utah on Saturday. The Arizona portion of its trip is just less than 50 miles and is taking place in the very far northeast corner of the state. When it is here, it'll be traveling only during daylight hours and will stage overnight at a pull off just east of the US 191/US 160 junction.
ADOT Transportation Engineer Permit Tech Chris Pippin says this isn't the biggest load to ever travel in Arizona, but "it is one of the heaviest transformers that have been moved on our state highways."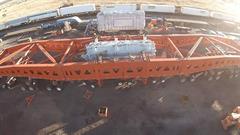 If you're planning a trip in that direction, don't worry too much about getting stuck behind the slow-moving trailer. Four law enforcement escorts will be accompanying the load and will perform traffic breaks and other maneuvers when necessary to keep traffic flowing.
In case you're curious, this transformer (along with another similar one that's scheduled to move through Arizona Nov. 14-15) has had a long journey. According to the transporting company, the transformers traveled by ship from China to Houston. Next, they were taken by train to New Mexico, where they were picked up by the transporting company for the final leg of the trek.
More about Class C permitting
Loads that are either in excess of 250,000 pounds, measure more than 120 feet in length, 16 feet in height or 14 feet in width fall under the Class C category.
When it comes to these super-sized loads, it is necessary for haulers to obtain a Class C permit from ADOT to ensure safety on the state's roads.
When a transporting company applies for a Class C permit, they must provide details to ADOT including the travel routes they plan to take and information on how many trailer axels will be used to spread the weight.
All of the facts are thoroughly reviewed by ADOT in order to make sure a load can safely make it along its route. ADOT's Class C permitting team communicates with various ADOT district engineers to make sure current road conditions and construction projects are accounted for in the final route. If the route involves a bridge, ADOT's bridge engineers make sure the bridge can handle the load and that the infrastructure won't be damaged.
By the way, the 1,834,000 pound transformer moving through the state this week won't be the only oversized load out on the roads. Class C permits are issued fairly frequently and you can learn more about them by checking out this video and this previous post.