5 electrical maintenance tasks regularly performed by ADOT crews that you might not know about
5 electrical maintenance tasks regularly performed by ADOT crews that you might not know about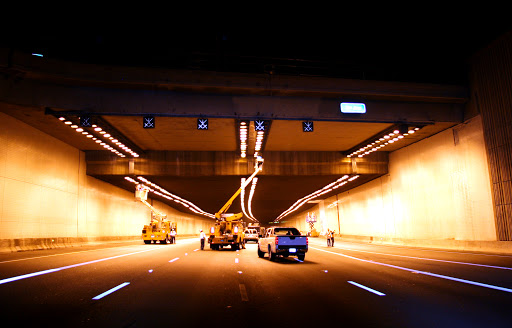 Road maintenance is about more than just paving roads and fixing guardrail.
Hopefully, our blog has enlightened you to that fact. But we know we really haven't even scratched the surface when it comes to covering everything our crews are responsible for.
That's why today, we're going to share with you, 5 ADOT electrical maintenance-related tasks you may not have known about: 
1) Blue Stake requests
Blue Stake refers to the law that requires anyone doing any sort of excavation to call a statewide hotline (811) before they dig. Arizona Blue Stake, Inc. will then notify any underground facility owners (water, gas, electrical, ADOT, etc.) so they can mark the locations of their underground lines, allowing the person doing the excavating to avoid them.
ADOT has six techs in the Phoenix Maintenance District alone devoted to Blue Stake requests. These employees work with Arizona Blue Stake, Inc. by researching and then marking the location of any ADOT underground utilities that are in the way of an excavation plan.
"Our Blue Stake crew is dedicated to protecting our underground facilities," said Joe McGuirk, ADOT's electrical operations engineer for the Phoenix district, adding that his crew gets about 25,000-30,000 "tickets" or inquiries a year.
Everyone knows about ADOT's bridges, roads and facilities that sit above ground, but the agency has a lot underground, too. McGuirk said there are things like conduits and fiber cable for ADOT's Intelligent Transportation Systems (ITS) that are underground and crucial to the operation of the state's highway system, along with all the wires that keep the freeways lit at night.
2) Pump House Maintenance
Just in the Phoenix-metro area, there are 70 pump stations. They're all positioned near roadways and help to keep the roads dry.
"They collect storm water," McGuirk said. "We don't want water on our roadway."
ADOT crews maintain the pumps and make sure they're ready and working properly. The crews on this team also work on regular improvement projects to make sure the pumps will work efficiently. Besides all this, the crews are on-call during rainstorms to fix anything that needs repair in order to avoid flooding.
3) I-10 Deck Park Tunnel maintenance
A crew of three works to "keep the tunnel safe and ready for traffic," McGuirk said.
Cleaning and maintenance are among the team's regular duties, but they also maintain the tunnel's ventilation system. The eight ventilation fans in the tunnel keep carbon monoxide at safe levels.
4) Signals and lighting
This is the ADOT Electrical Operation's largest group. The ADOT employees on this team make sure all of ADOT's signals and lights are in working order (that includes changing quite a few light bulbs!).
McGuirk said in the Phoenix area alone, ADOT has 164 signals (that doesn't include ramp meters) and roughly 13,000 light bulbs to maintain.
Duties in this section include preventative maintenance and coordination with municipalities and railroads. Unfortunately, this team also has to regularly replace wire that is stolen right out of the ground.
5) Intelligent Transportation Systems
There are 200 traffic cameras in the Phoenix district, along with about 80 DMS boards, and McGuirk said he has a five-person team devoted to the care and preservation of the systems.
This includes repairs and upgrades to the DMS boards themselves and fixes to the detector stations.
"We maintain all the equipment out in the field for ADOT's Traffic Operations Center," he said.
There's more… 
This is by no means a complete list of all the maintenance duties performed by ADOT crews. But, we hope it gives you a look at some of the "unseen" tasks being performed by our crews every day to help keep the state's highway system operating smoothly.
There's a lot more to cover on this subject – and we will, so stay tuned!