520-ton oversize load slowly makes its way through state
520-ton oversize load slowly makes its way through state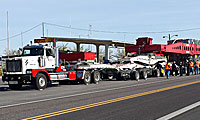 What travels 10 mph, measures nearly 17 feet tall and weighs in at roughly 520 tons?
If you guessed the 1,040,500-pound oversize load currently making its way through our state, you are correct!
This majorly massive load crossed from New Mexico into Arizona on March 18. The haul consists of one (very big) transformer that's being moved (very slowly) to its final destination in Yuma.
Besides being tall, heavy and slow, it's also 20-feet-wide and 305-feet-long.
But enough about size – what we find really interesting is how oversize loads like this one move at all.
Moving big loads is no small effort
You might remember we blogged this topic in 2011 when a 285-ton anode traveled from Salt Lake City to the mining town of Miami, east of Phoenix.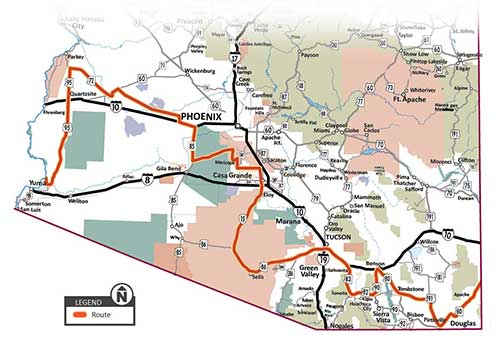 In that post, we explained that the hauler for oversize/overweight loads must apply for a Class C permit to drive on Arizona highways.
The permit applications ask the hauler to specify travel routes along with more technical stuff – like how many trailer axles will be used to spread the weight (the transformer is being supported by 25 axles).
Transportation Engineering Permit Tech Chris Pippin explains that ADOT's role includes making sure that the roads can handle the heavy loads.
"It's about making sure the infrastructure doesn't get damaged along the route," she said.
Route considerations
Because of its size and slow speed, the transformer is, for the most part, avoiding major freeways and interstates. The route mainly includes secondary highways. It's also only allowed to travel at night to avoid daytime traffic. Another condition of this move requires front and rear escorts (pilot cars) along with four DPS officers on the entire route.
There's one more thing to note about the transformer's route…
It had to travel on I-10 for just a small portion of the trip near Benson. The interesting thing about the short trek is that because of its size, it headed west on the eastbound lanes. That happened on Sunday, March 23 and required a closure of the road.
For more about oversized loads, check out our previous video and blog posts.