Adopt a Highway connects family, highway and ADOT employee
Adopt a Highway connects family, highway and ADOT employee
By Patricia Powers-Zermeño / ADOT Communications
I explain what I do by saying, "I talk trash." I manage the ADOT Adopt a Highway Volunteer program, so I really do talk about trash all day long.
And there is a lot to talk about. Roadside litter is a problem all over the world. Departments of transportation, nonprofits and philanthropic groups spend hundreds of millions of dollars a year trying to prevent it, get rid of it, reuse it or recycle it.
In Arizona, more than 10,000 people help address this problem by participating in the ADOT Adopt a Highway volunteer program. When ADOT asks volunteers for comments about the program, we sometimes get a thank you for the opportunity to pick up roadside litter in remembrance of a loved one.
This is a story about one volunteer recognizing a loved one, and an ADOT employee whose love of serving the public is making the world a more beautiful place in Sonoita.
Recently, we received a letter from Nancy Skaggs in southern Arizona. She wrote to tell ADOT about what she referred to as the "privilege of cleaning Hwy 82 (State Route 82) between mile marker 34 and 35." She explained this was a special place for her because it was where her 23-year-old son Courtney was killed by a driver who was unable to slow down.
Nancy said that when she and her husband Bob (shown at right) adopted the spot two years ago, they thought they would be picking up litter by themselves. But when the sign went up, people asked if they could clean up too.
The group has grown so much that now Nancy serves sweet rolls before they begin cleanups and Bob cooks up lunch when the work is done. In her letter, she says it is a pleasure to be a part of the program and that James "Jimmy" Lewis, an ADOT employee based in Nogales, is a big reason why. As a permit inspector, Jimmy was an ADOT contact for volunteers to notify when scheduling their cleanups.
---
PODCAST: Listen to the author describe her story:
---
Nancy has never met Jimmy (shown at right), but she praises him as being helpful with planning the events and pickups once the work is complete. She says he "always has the scoop on the weather ... and (road) conditions to expect." She adds, "Thank you Jimmy for being so understanding when a mom cries when she talks of her son."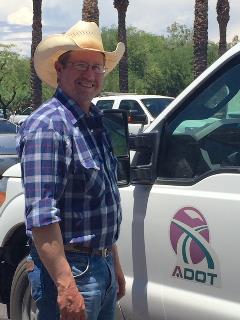 Jimmy, who has been with ADOT for 11 years and now leads ADOT's maintenance operation in Nogales, says the ADOT Adopt a Highway Volunteer program is especially impressive in rural Arizona. People start out with one or two in a group, and then it grows up to a dozen people including family and friends.
"These are good groups," he says. Why does it work so well? "It's about helping Arizona stay beautiful."
In her letter, Nancy says that while it's a hard job, her son was someone who would volunteer as well. "Thank you for the opportunity to make our area look clean and neat and to bring so many friends and relatives and neighbors together to remember Courtney," she says.
When I tell Jimmy Lewis that in my years with ADOT Adopt a Highway I've never received a letter so filled with praise ‒ and that I agree with Nancy that he's a special man ‒ he shakes his head no. "Mrs. Skaggs is a real special lady," he says.
For more information about the ADOT Adopt a Highway Volunteer program, visit azdot.gov/adoptahighway.