Adopt a Highway: Forget naming a star
Adopt a Highway: Forget naming a star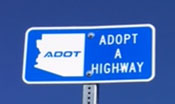 By Mary Currie / ADOT Communications
With the holidays upon us, we're all pressed for time and gift ideas that wow.
I've got one for you. Rather than naming a star for someone, be the star by joining ADOT's Adopt a Highway volunteer program.
Adopt a Highway permit coordinators in your area are ready to help you locate a 2-mile stretch for your group to help keep litter-free. We supply trash bags and safety vests. You plan group cleanup events three times per year, report your litter and walk away a hero.
It's the best gift you will ever give, to yourself and others interested in reducing unsightly litter on Arizona's highways.
You could adopt a star. But Santa is watching, make him proud.