Adopt a Highway: Glendale Union High School District volunteers earn an A-plus
Adopt a Highway: Glendale Union High School District volunteers earn an A-plus
By Mary Currie / ADOT Adopt a Highway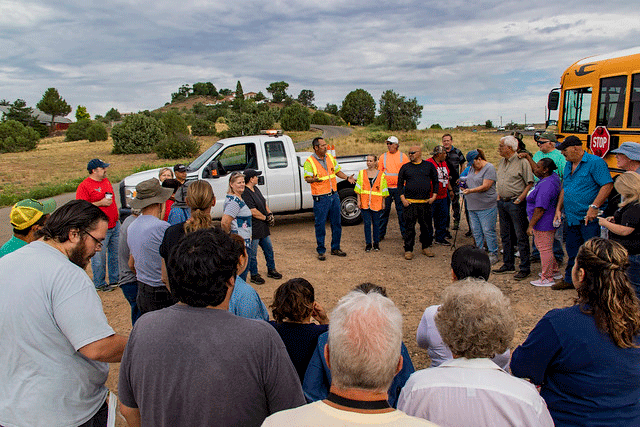 This story began as a back-to-school message to kids of all ages about the negative effects of littering. I was struggling for a catchy new angle when the phone rang.
Richard Perez, permit supervisor for ADOT's Northwest District, called to notify me that the Glendale Union High School District Transportation Department had requested a one-time litter clean-up along 2 miles of State Route 89A, known to locals in Dewey as Fain Road.
Last week I met up with the group as they prepared for an ADOT safety briefing. Hilma Gustafson, the district's transportation supervisor, and Timothy Tillman, a transportation dispatcher, were busy outfitting safety vests and preparing for the cleanup.
It is not often one can say this literally, but not far behind were busloads of volunteers, two of them, 40-strong each, pouring into the parking lot to join the event. When I asked Tim why he choose Adopt a Highway, he told me that scheduling volunteer events for large groups can be challenging. This was a way to keep the group together rather than dividing them up among different service projects.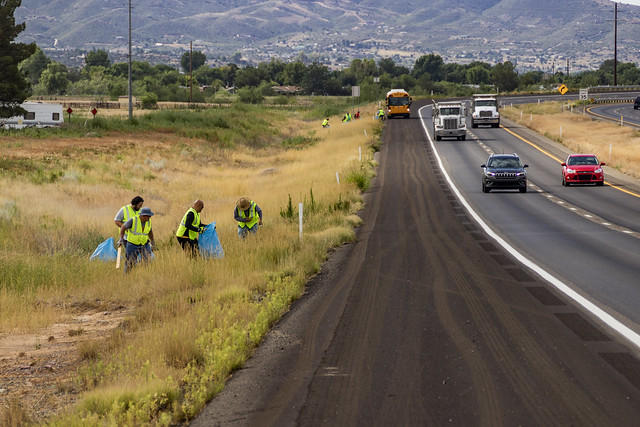 Hilma, a 27-year transportation employee with the district, brings the department together annually before the school year starts for training. A few years ago she added volunteering to the program. That's taken them to food banks, thrift stores and, now, the side of a state highway. 

According to Tim, "Volunteering as a group, large or small, is a way to give back to the community. It also opens the volunteer door to some who may have never done volunteering, and it improves the beauty of our great state."
Well kids, the back-to-school message became more about teamwork and community pride. Not the direction I intended this post to go, but this is a catchy, maybe-not-so-new angle: Making a difference starts with each one of us.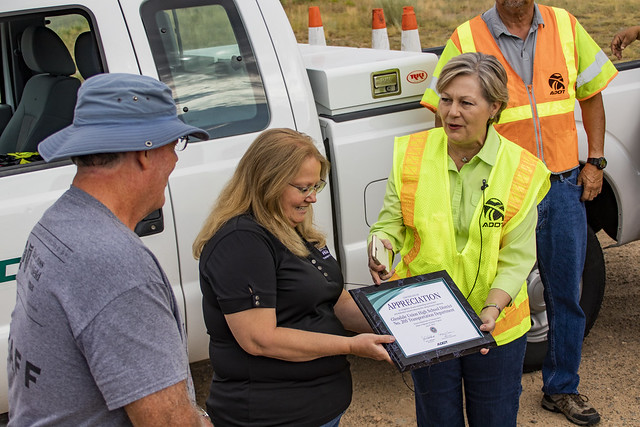 I had a chance to chat with a few of the 40 volunteers as they walked along filling their trash bags. Each had a smile to share and did not seem to mind a rather warm northern Arizona morning. What I learned is that teamwork is second nature to this transportation department. Dispatchers, bus drivers, supervisors and trainers all work toward the common goal of safely delivering students.
Their efforts netted 51 full litter bags dotting SR 89A, earning them a well-deserved "A-plus" for the team. Thank you to the Glendale Union High School District Transportation Department for spending part of your day with the Adopt a Highway Volunteer program. Your service to the community reflects in our new program motto: Arizona, Keep it Grand.
Do you have team spirit? Then please visit the ADOT website to learn more about our Adopt a Highway program. An interactive map will show you which highway segments are available to adopt. You can also report littering at Litter.AZ.gov  or 877.3LITTER or 511 (select option two).