Adopt a Highway: Inspiration led to 20 years of keeping Chinle area clean
Adopt a Highway: Inspiration led to 20 years of keeping Chinle area clean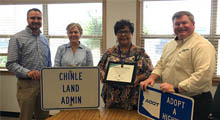 By Mary Currie / ADOT Adopt a Highway
Twenty-six years ago Caroline Dale, senior homesite agent for the Chinle Navajo Land Department, became inspired by a promotion for an annual event celebrating support of the environment and harmony with nature.
Dale's inspiration turned to action when she adopted a stretch of US Route 191 near her office. Her mission: Keep Arizona clean. Between three and seven department staff members joined Dale's continuing effort to clean up trash along this stretch in Chinle.
Chinle is located in northeastern Apache County on the Navajo Nation. The name Chinle in Navajo means "flowing out" and is a reference to where water flows out of picturesque Canyon de Chelly nearby.
On June 5, ADOT's Northeast District staff members and program representatives gathered in Holbrook to recognize Dale for her volunteer service with ADOT. By stepping forward to reduce litter in her community more than two decades ago, Dale and her team left an imprint in the form of a positive impression to residents, travelers and visitors to the area.
That's Dale second from the right in the photo above, joined by, from left to right, Matt Moul, district engineer for ADOT's Northeast District; yours truly; and Tim Tait, ADOT communications director.
We hope you too will be inspired by both Dale's awareness of nature and her mission to reduce litter in Arizona. If you are interested in forming your own group of volunteers learn more about the Adopt a Highway Volunteer program and check out an interactive map to see available locations ready for adoption throughout the state.
---

EDITOR'S NOTE: The author oversees ADOT Adopt a Highway programs.