Adopt a Highway Volunteers appreciated all year, not just during National Volunteer Week
Adopt a Highway Volunteers appreciated all year, not just during National Volunteer Week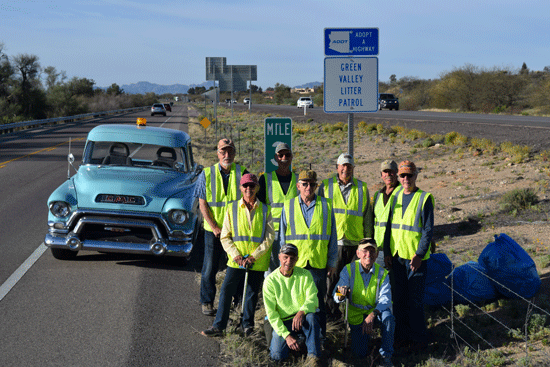 By Garin Groff / ADOT Communications
With this being National Volunteer Week, we've been figuring out the best way to show you the impact made by more than 900 volunteer groups who have adopted an Arizona highway.
And then we heard from volunteer Gene Van Dyken, who reports to us that his group's weekly cleanups along Interstate 19 in Green Valley have already won the community's appreciation.
"Yesterday a couple wrote in the (Green Valley) News, Letter to the Editor, "WE SEE YOU. The persons who get up early and clean the trash from the roadsides in Green Valley! We owe you a big thank you."
Van Dyken is part of Green Valley Litter Patrol, an Adopt a Highway group that started about 2008 and has collected 3,182 bags of trash. The group volunteers every week, except during the hottest part of the year.
"We enjoy doing something that most everyone agrees is beneficial to our community," Van Dyken said. "And we really like the camaraderie of the group. People notice the work we put into it."
All of us at ADOT would also like to thank Van Dyken, his group and hundreds of passionate volunteers who collect litter across the state. Their efforts save taxpayers $500,000 a year!
If you'd like to be the next person or group to help beautify Arizona's highways, we're always welcoming new volunteers.
Check out our statewide map of highway sections available for adoption and learn more about the program.