Adopt a Highway volunteers bag a win for Arizona on National CleanUp Day
Adopt a Highway volunteers bag a win for Arizona on National CleanUp Day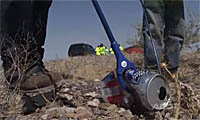 By Mary J. Currie / ADOT Communications
Adopt a Highway Volunteer groups from around the state answered the invitation to participate in National CleanUp Day recently.
Bag collections so far have exceeded 192, and we expect that number to grow as more groups submit their litter activity reports over the following weeks. That morning, ADOT
Communications Director Tim Tait (driver and photographer) and I (volunteer-lookout and navigator) headed out from Phoenix on Interstate 17. We caught up with several volunteer groups in action near Chino Valley, Dewey and Heber/Overgaard.
It was our pleasure to personally thank each group for volunteering and answering the call to participate. We appreciated the warm welcome for our quick drop in and photo op! The photo at right shows me thanking Edward Gillum of St. Luke's Episcopal Church volunteering along State Route 89 in Chino Valley.
As we made our loop through Holbrook, Flagstaff and back to Phoenix, we saw quite a few ADOT signature sky-blue bags dotting the highways – the telltale sign of a successful day.
Volunteers in Wickenburg, Apache Junction, Oro Valley, Sierra Vista, Coolidge and Willcox also came out in force to show their community pride.
These groups deserve special acknowledgement for responding to the call to action:
Sharon Lake, Sierra Vista Sunrise Rotary and Buena Vista High School Interact
Doug Harris, Ponderosa Lions Club
Kathy Berman, Bike Prescott
Edward Gillum, St. Luke's Episcopal Church
Kevin Mrotek, The Prescott Fun Activities Group
William Valenta, Wickenburg Ranch Cyclists
Michel and Chris Fluhr, Clint Fluhr Forever in our Hearts
Monia Valencia, In Loving Memory of Denise Padilla
Skyler Hardy, Hilton El Conquistador Hotel
Deborah Greco, In Memory of Jack Rogers Adventurer
Linda Philbrook, SasquatchMarc Philbrook We Love You
Albert Koester, The Church at Sunsites
Becky Smith, In Memory of Danielle L. Wolf
Linda Serna, Loving Memory for Adelina and Mandy Martinez 
Thank you all for making a positive impact to your community and the state of Arizona on National CleanUp Day. We appreciate that you have chosen to participate in ADOT's Adopt a Highway Volunteer program.
---

EDITOR'S NOTE: The author oversees ADOT Adopt a Highway programs.