ADOT, archaeologists look to learn more about past before South Mountain Freeway construction
ADOT, archaeologists look to learn more about past before South Mountain Freeway construction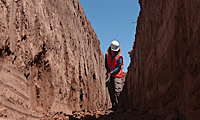 By Dustin Krugel / ADOT Communications
"Who knows only his own generation remains always a child."
– University of Colorado President George Norlin, based on an inscription by Roman philosopher Marcus Tullius Cicero
This saying applies to the archaeological work the Arizona Department of Transportation is conducting in advance of the Loop 202 South Mountain Freeway project, according to Mark Chenault of WestLand Resources, an archaeological company contracted by ADOT.
"If you don't know history, you don't get the big picture of this life," said Chenault, who says he knew at age 6 that he wanted to be an archaeologist.
On an early morning in May at a location along the 22-mile-long footprint of the freeway, a dozen or so archaeologists worked in an opening field, digging systematically in 5-foot-deep trenches. They were searching for signs that the prehistoric Hohokam built irrigation canals in this area.
This is one of 16 field investigations ADOT will be conducting following an archaeological survey during the freeway's study phase, which began in 2001.
It may come as a surprise that ADOT is one of the largest sponsors of archaeological research in Arizona. Prior to any transportation project, the agency studies the potential effects the environment, and it abides by environmental laws that are designed to preserve history and manage our cultural resources. This process often requires the aid of archaeologists.
"Although ADOT is a transportation agency, environmental stewardship is very important," said Linda Davis, ADOT Historic Preservation Team leader. "ADOT is very sensitive of the cultural sites that we encounter. We work closely with tribal communities to ensure the best preservation and protection when avoidance is not possible."
While some may think of "Indiana Jones" when the topic of archaeologists comes up, Chenault said that's far from the truth.
"A lot of people think archaeologists go out and find something that solves some big riddle, but it rarely works that way," he said. "It's a cumulative science, so we are getting information that we add to information gathered by archaeologists from decades prior to use. It gives us a bigger and fuller picture of what the Hohokam lifestyle was like."
While some of these archaeological sites may be fenced off and/or have security guards, it's for good reason.
"We are just trying to protect both the site and the public," Chenault said. "We have open trenches there. We don't want anyone falling in and getting hurt, but we also don't want any damage to the site. So the fencing is for protection for everyone involved."
In addition, state and federal historic preservation laws require some of the work to be confidential until the investigations are completed.
Eventually, all of the work that ADOT and the archaeologists complete will be documented in research reports available for the public to review, and future generations will be able to learn more about the area's history. In addition, artifacts will be housed at the Huhugam Heritage Center on the Gila River Indian Community.