From the ADOT Archives: ADOT equipment auction
From the ADOT Archives: ADOT equipment auction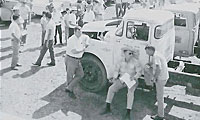 Earlier this week we told you about the ADOT spring auction happening 8 a.m. on April 6 at the ADOT Equipment Services yard, 2350 S. 22nd Ave. in Phoenix.
But, what we failed to mention then is that this annual event has been occurring for several decades now... 
As you can see in these photos, the auction attracted a crowd even back in 1969. According to our archives, these were taken in June of that year.
The people in the pictures were likely looking for a deal on one of the several vehicles pictured in the yard.
ADOT's modern auctions surely bring out a similar group of bargain-hunters. These days, the events feature a similar assortment of vehicles – albeit much newer models than the ones shown here!
It's safe to say things have changed since 1912 when the Arizona Highway Department was first established. But you don't just have to take our word … we've got plenty of pictures to prove it. We combed through our archives and decided to periodically post these photos from the past in a blog series we're calling, "From the ADOT Archives."