From the ADOT Archives: Arizona's first freeway interchange
From the ADOT Archives: Arizona's first freeway interchange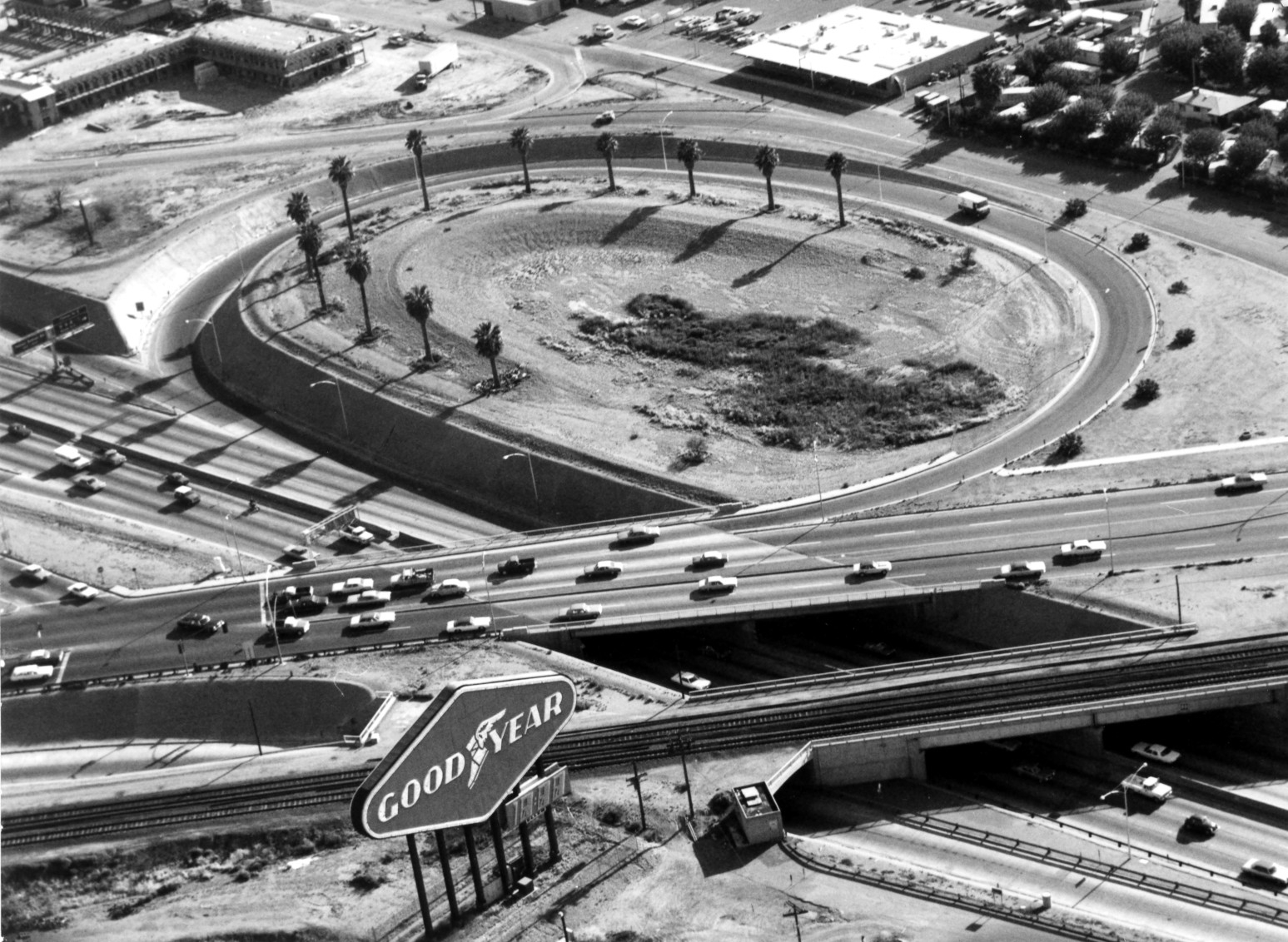 By Doug Pacey
ADOT Office of Public Information
Today, Phoenix's freeways quickly carry residents across the Valley, zipping from one highway to another. It's easy to travel, for example, from Gilbert to Glendale – take US 60 to Interstate 10 to Loop 101 Agua Fria. Your travel time will be affected by the vehicle volume on the highways, but you will not hit a traffic signal or stop sign on the freeways.
Not too long ago, that was impossible.
In 1957, Arizona's first freeway interchange was finished, connecting Black Canyon Freeway and US 60/Grand Avenue, northwest of downtown Phoenix near Thomas Road. This photo shows the interchange, with Grand Avenue running along the overpass, crossing above Black Canyon.
At the time, US 60/Grand Avenue was the major east-west road through Phoenix – it started at Van Buren Street – and a few years later, Black Canyon was designated as part of Interstate 17 by the federal government. Back then, the freeway system in Maricopa County was in its beginning stages. Interstate 10 was still just a plan and there were no loops – 101, 202 or 303 – or state routes 51 or 143.
If the interchange in the photo isn't familiar, that's because it was taken out in the 1980s when construction of the Stack interchange was underway, connecting the I-17 Black Canyon and I-10 Papago freeways northwest of downtown Phoenix in 1990.
While this interchange is gone, many features in the photo are still present. The structure under construction in the top left is a hotel and the white-roofed building also remains. The billboard still stands tall, too, but no longer hawks Goodyear products.
It's safe to say things have changed since 1912 when the Arizona Highway Department was first established. But you don't just have to take our word … we've got plenty of pictures to prove it. We combed through our archives and decided to periodically post these photos from the past in a blog series we're calling, "From the ADOT Archives."