ADOT Communications Division earns awards
ADOT Communications Division earns awards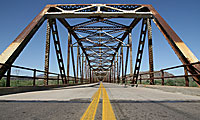 Regular readers of the ADOT Blog know that once a year we write about something called TransComm.
It's the annual meeting for the American Association of State Highway and Transportation Officials Subcommittee on Transportation Communications. The conference, which was hosted in Arizona this year, is an opportunity for transportation communicators from around the country to gather, learn and exchange ideas with one another.
The TransComm skills contest award ceremony is always an exciting portion of the conference and this year's event was no exception…
On Sept. 30, state DOTs were awarded for their communication efforts and we're very happy to report that ADOT's communications team took home several awards! Those honors include:
As if that weren't enough good news, we were thrilled to learn that one of our ADOT photographers earned another award from AASHTO. This one was part of the "Faces of Transportation" photo/video competition, which according to AASHTO, "recognizes outstanding images submitted by state department of transportation employees and the general public."
You can check out the winning photo above. That shot of the old US 80 Gillespie Bridge won in the "historic projects" category.
OK, enough about us! We're honored by the awards, but we're even more grateful to have an audience that reads our blog, watches our videos, stays updated through our news releases, visits our website and views our photos. Thank you for connecting with ADOT!