ADOT completes new surface of reconstructed northbound I-15 bridge
ADOT completes new surface of reconstructed northbound I-15 bridge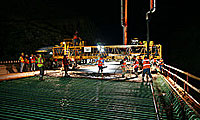 If you follow us on Facebook and Twitter, you know that earlier this week, crews completed an overnight concrete deck pour on the newly reconstructed northbound side of the Interstate 15 Virgin River Bridge No. 6.
The bridge is in the far northwestern corner of Arizona and work to rehabilitate the structure began in March 2014. This significant project includes the replacement of the bridge's superstructure (girders, deck and railings), as well as widening the roadway through the narrow passage of the gorge. The project is expected to be completed in 2016.
Right now, the northbound bridge is closed for the reconstruction project – both directions of traffic are currently traveling on the two-lane southbound bridge, which will also be replaced when the new, wider northbound bridge is completed this summer.
The concrete pour is a pretty big milestone for this project and we wanted to share some photos of the work with you today.
In one of the photos above, you'll notice a 25-mph speed limit sign for traffic on the southbound side of the bridge. The reduced speed limit was in place for about 48 hours and necessary prevent excessive vibration so the new concrete could properly cure.
Drivers heading that way are urged to plan ahead and allow for extra travel time – the highway is currently narrowed to one lane in each direction through the work zone. ADOT also advises motorists to slow down and drive carefully through the work zone.
Learn more about the project on our website or by revisiting these previous posts. You can also see more photos of the project's progress on our Flickr page.
Stay tuned ... we have a video on the deck pour coming soon!