New smartphone app will help drivers navigate upcoming traffic restrictions on I-15 Bridge No. 1 project
New smartphone app will help drivers navigate upcoming traffic restrictions on I-15 Bridge No. 1 project
LITTLEFIELD – With lane restrictions and oversize truck detours beginning next week on the I-15 Virgin River Bridge No. 1 project in Littlefield, a new app designed to communicate traffic information and project updates is now available for free download on Apple and Android devices. 
The smartphone app, called Virgin River Bridge, was designed by the contractor for the I-15 bridge replacement project, and it will provide updates of construction activities that will likely impact traffic flow on I-15. 
"This project seemed like a great fit to have its own app to keep the public updated on construction progress and traffic impacts because most of the traffic on this section of I-15 is passing through from one state to another," said Brenden Foley, assistant district engineer for ADOT's Northcentral District.
The new app arrives just in time for the start of traffic restrictions on the project. Beginning Wednesday, Sept. 8, I-15 will be narrowed to one lane in each direction across the bridge, and there will be width and weight restrictions in place. 
The width restriction means that all vehicles wider than 10 feet will have to use a 224-mile detour route during construction. Additionally, the overweight restriction means that all vehicles over 129,000 lbs will also have to utilize the detour. Signs, as well as the new app, will direct oversize vehicles to the detour route of US 93, Nevada State Route 319 and Utah State Route 56 between Las Vegas and Cedar City, Utah.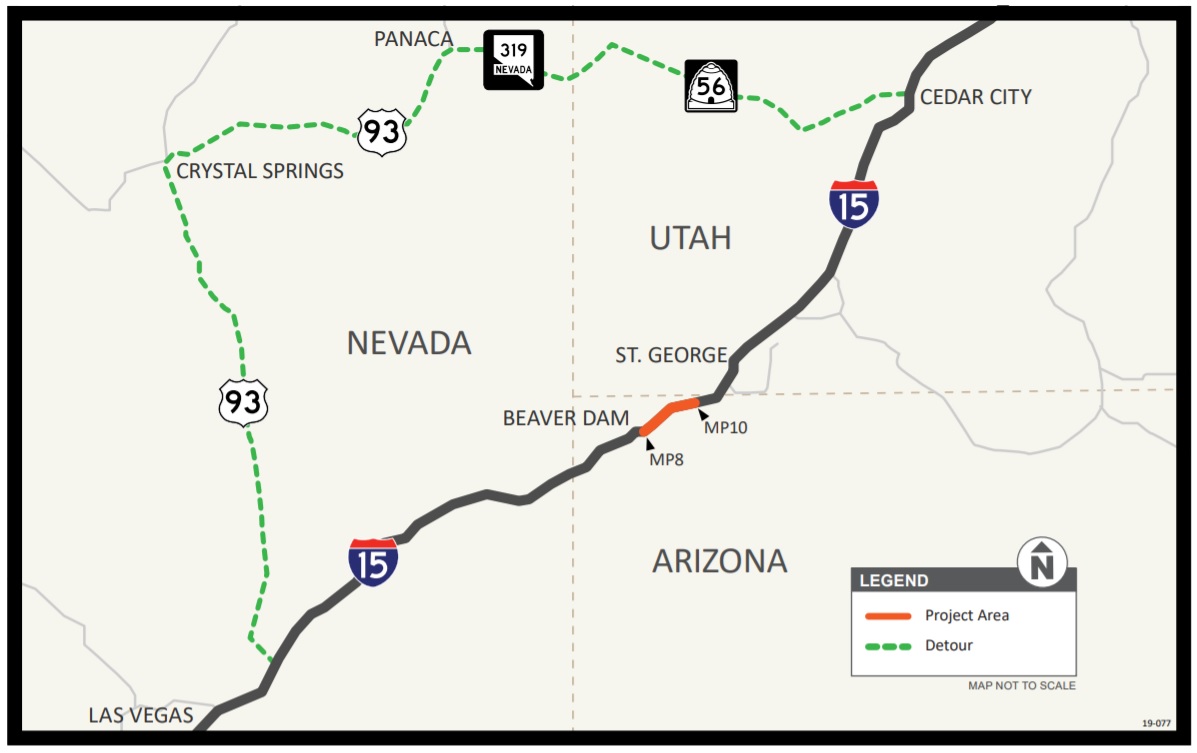 "We especially encourage truck drivers who use I-15 frequently to download this app in order to stay current on traffic impacts while we improve Bridge No. 1," Foley added.
Information from the app is also available on GPS navigation apps such as Drivewyze and Waze.
Kiewit Corporation, ADOT's contractor for the project, has had success with similar smartphone apps for its work on the Valley Metro Central Avenue Light Rail extension in Phoenix and Project Neon, a project upgrading nearly 4 miles of I-15 in Las Vegas. 
The $56 million bridge-replacement project is anticipated to be completed in spring 2024. For more information, visit azdot.gov/projects and click on the Northcentral District.