ADOT completes some I-15 bridge projects, easing traffic restrictions
ADOT completes some I-15 bridge projects, easing traffic restrictions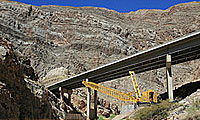 We have some good news for drivers who use the I-15 corridor in the far northwest corner of the state…
ADOT has just finished a series of bridge rehabilitation projects through the Virgin River Gorge and lifted several traffic restrictions in the area.
The $2.8 million project started in January and included upgrading the southbound bridge surfaces, girder repairs and other related work on Virgin River Bridge No. 2 (milepost 13), Bridge No. 3 (milepost 13) and Bridge No. 7 (milepost 22).
While the completion of work on these three bridges will ease traffic restrictions, motorists should be aware that construction in the area is not completely finished. A work zone will remain in place through 2016 for the reconstruction of Virgin River Bridge No. 6 (milepost 16), approximately 20 miles south of St. George, Utah.
If you've been following the progress along with us here on the ADOT Blog, you know that in April ADOT started an extensive rehabilitation project on Virgin River Bridge No. 6, which includes replacing the bridge's superstructure (girders, deck and railings), as well as widening the roadway through the narrow Virgin River Gorge.
Recently, ADOT started work that will eventually serve as the foundation of the new bridge. The $27 million project is the only active project on Arizona's 29-mile-long portion of I-15, which directly connects Nevada and Utah and is a heavily-traveled commercial and economic corridor linking southern California with the Rocky Mountain region.
What drivers should know
With limited alternate routes due to the remote location of the I-15 Virgin River Gorge corridor, ADOT urges drivers traveling between Mesquite, Nevada, and St. George, Utah, to plan ahead, allow extra travel time, slow down and drive carefully through the Virgin River Bridge No. 6 work zone. I-15 is narrowed to one lane in each direction at the bridge project and delays are possible.
ADOT works to inform the public about planned highway restrictions. Unscheduled restrictions or closures may occur. To stay up-to-date with the latest highway conditions around the state, visit the ADOT Traveler Information Center at az511.gov or call 511; outside Arizona, dial 1-888-411-ROAD (7623).
For more information about these projects visit our website or check out our previous blog posts.