ADOT employees assist veterans with driver licenses, IDs at StandDown
ADOT employees assist veterans with driver licenses, IDs at StandDown
By Lori Baker / ADOT Communications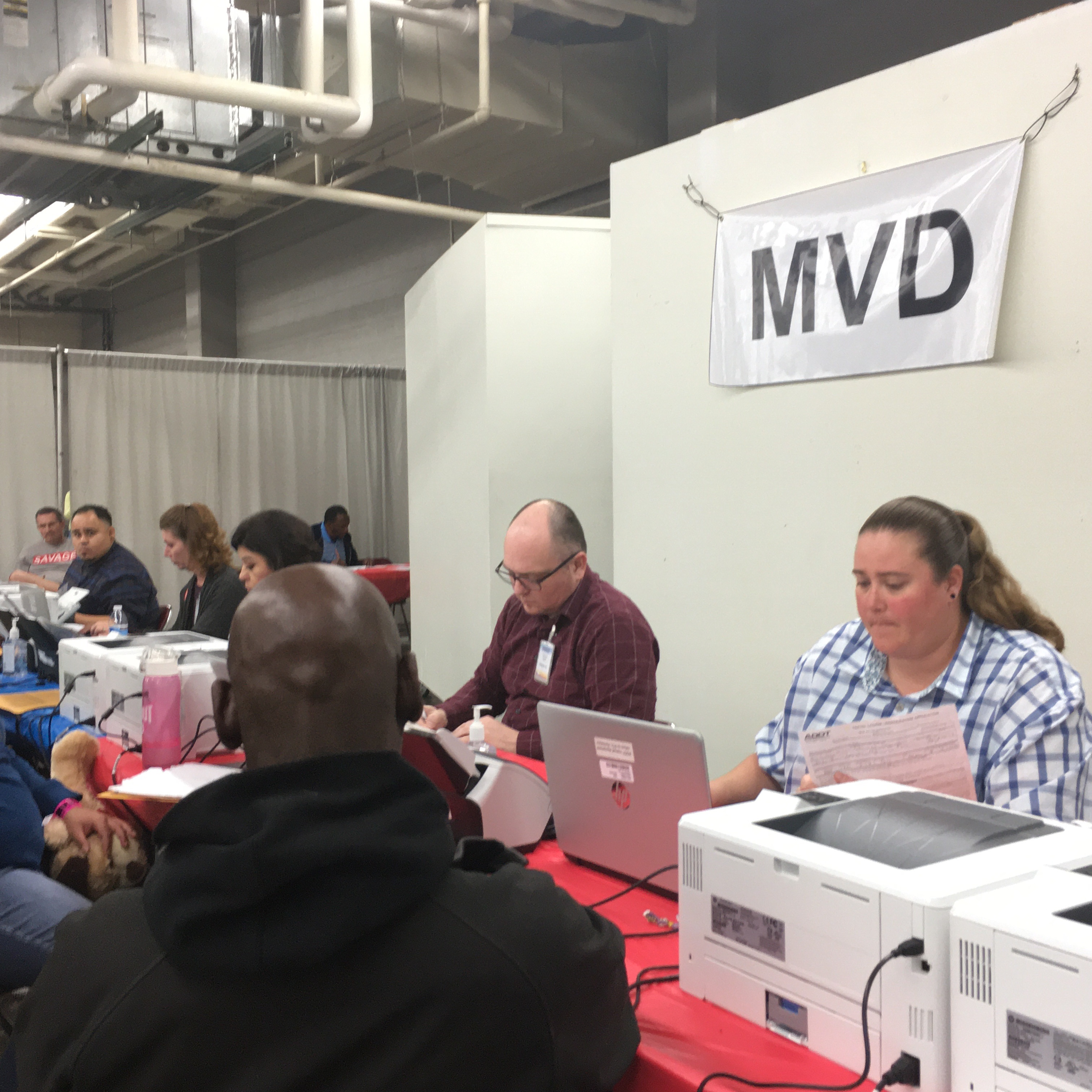 ADOT employees assisted more than 760 veterans experiencing homelessness last week at the annual Maricopa County StandDown at the Arizona Veterans Memorial Coliseum in Phoenix.
Nineteen Motor Vehicle Division customer service representatives, who worked at temporary computer workstations, provided driver license, identification card, title and registration services for the event, held Jan. 23-24. Driver license transactions included written tests and vision screening with road tests in a vehicle provided by Courtesy Chevrolet, said MVD West Region Manager Kyle Ulibarri.
"Providing MVD services at StandDown allows veterans to get their driving privileges or identification cards issued in one spot. By having their driver license or ID, they can apply for other services to help get back on their feet," he said. 
Ulibarri said it's rewarding to help veterans to get back on the road, obtain a job or get government benefits.
"MVD employees get to see firsthand how powerful a driver license is for a person and how much it impacts their day-to-day living situations. It provides a great sense of pride in the work that they are doing to know they can potentially impact one veteran and help get their life back on a positive path."
Information Technology PC Tech Tabion Johnson said he volunteers to honor veterans.
"I want to give back to those people who stood up for us," he said.
The ADOT team was located next to the temporary court facilities, making it easier to resolve problems in hours that might have taken weeks under typical circumstances. The Maricopa County StandDown, coordinated by the Arizona Housing Coalition's Arizona Veterans StandDown Alliance, each year brings together organizations to help veterans under one roof, including government services, housing assistance, medical services, education services, haircuts and pet care.