ADOT facilitates training for first responders
ADOT facilitates training for first responders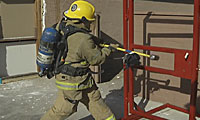 You might not associate ADOT with firefighter training, but there is a connection…
Earlier this year, we blogged about ADOT's Right Of Way Group and how that team is responsible for acquiring property rights necessary for highways, maintenance facility sites and even material pits. Sometimes those properties contain structures that can be used for training, as today's video shows.
"In this particular case, first responders approached ADOT and ADOT was more than willing to provide the structures for them to be able to practice in and receive the training they do," says Raul Torres of ADOT's right-of-way property management group.
The partnership works out well by giving first responders the opportunity to train in a realistic setting.
"To have an opportunity to train in a live training scenario when there's not an actual emergency going on is a great thing for us and it's a great thing especially for our probationary firefighters," Phoenix Fire Department Captain Ardell Deliz said.
For more on ADOT's Right of Way Group, visit our website or check out this blog post and video from April.