ADOT Five Year Construction Program available for comment
ADOT Five Year Construction Program available for comment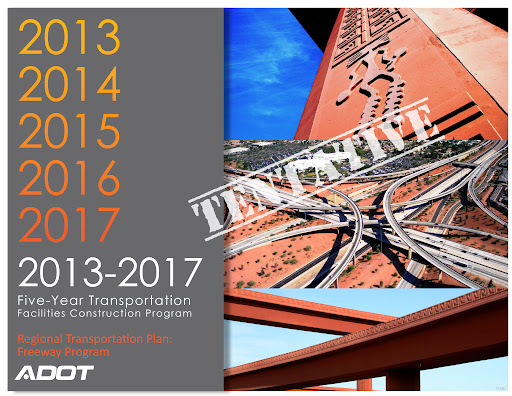 Arizona's transportation system has evolved over the past 100 years from a series of unpaved roads into a robust network of highways, airports and transit systems equipped with the latest technology and innovations.
But, that transformation didn't happen by accident ... it took plenty of work and a whole lot of planning.
Planning is just as vital today as it was back then and at ADOT we're always looking ahead.
Which brings us to the topic of today's blog post ... the Five-Year Transportation Facilities Construction Program.
This is a plan that basically serves as a blue print covering a five-year span to detail where, when and how regional, state and federal funding will be spent for future projects. Since Arizona is a big state with lots of needs and because transportation projects come with high costs, ADOT needs to prioritize which projects move forward first.
The five-year program is created through collaboration that all begins with a long-range visioning process (kind of a "big-picture" look at the next 40 years). Next, a more realistic 20-year plan is developed and from there, the five-year program is created.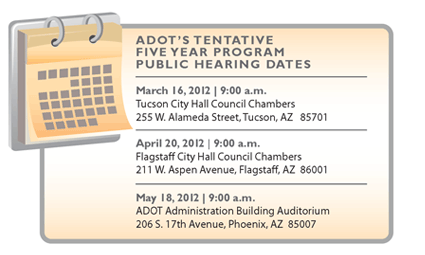 The five-year program is updated each year and because budgets are uncertain, the first two years are always fiscally constrained, meaning they're based on an expected budget. The remaining three years are built on budget estimates.
After a thorough public hearing process, the State Transportation Board considers and adopts the five-year program.
A quick look at the 2013-2017 program
For 2013 through 2017, the total for the highway portion of the five-year program is tentatively set at $940 million a year to preserve, modernize and improve our state's highways. That is down from the $1.1 billion per year from the last five-year program, due primarily to the decline in funding resulting from a weak economy.
Of the total amount of funding estimated over the next five years, about half is designated for the Metro Phoenix region, in part because of the Valley's half-cent sales tax for transportation projects, approved by voters in 2004.
Approximately $126 million is designated for aviation projects in the five-year program.
We want to hear from you!
You can get a complete look at the tentative five-year program now ... it's online and we welcome your feedback. You can email us at [email protected].
We also invite you to check out the "how to read it" guide!
If you'd rather give your feedback in person, or you want to talk with an ADOT representative face-to-face, public hearings will be conducted on March 16 in Tucson, April 20 in Flagstaff and May 18 in Phoenix (see above for details).
Members of the State Transportation Board will consider comments received by May 18 when they formally adopt the program in June.