ADOT geologist studies how to keep rocks from the highways
ADOT geologist studies how to keep rocks from the highways
By Laurie Merrill / ADOT Communications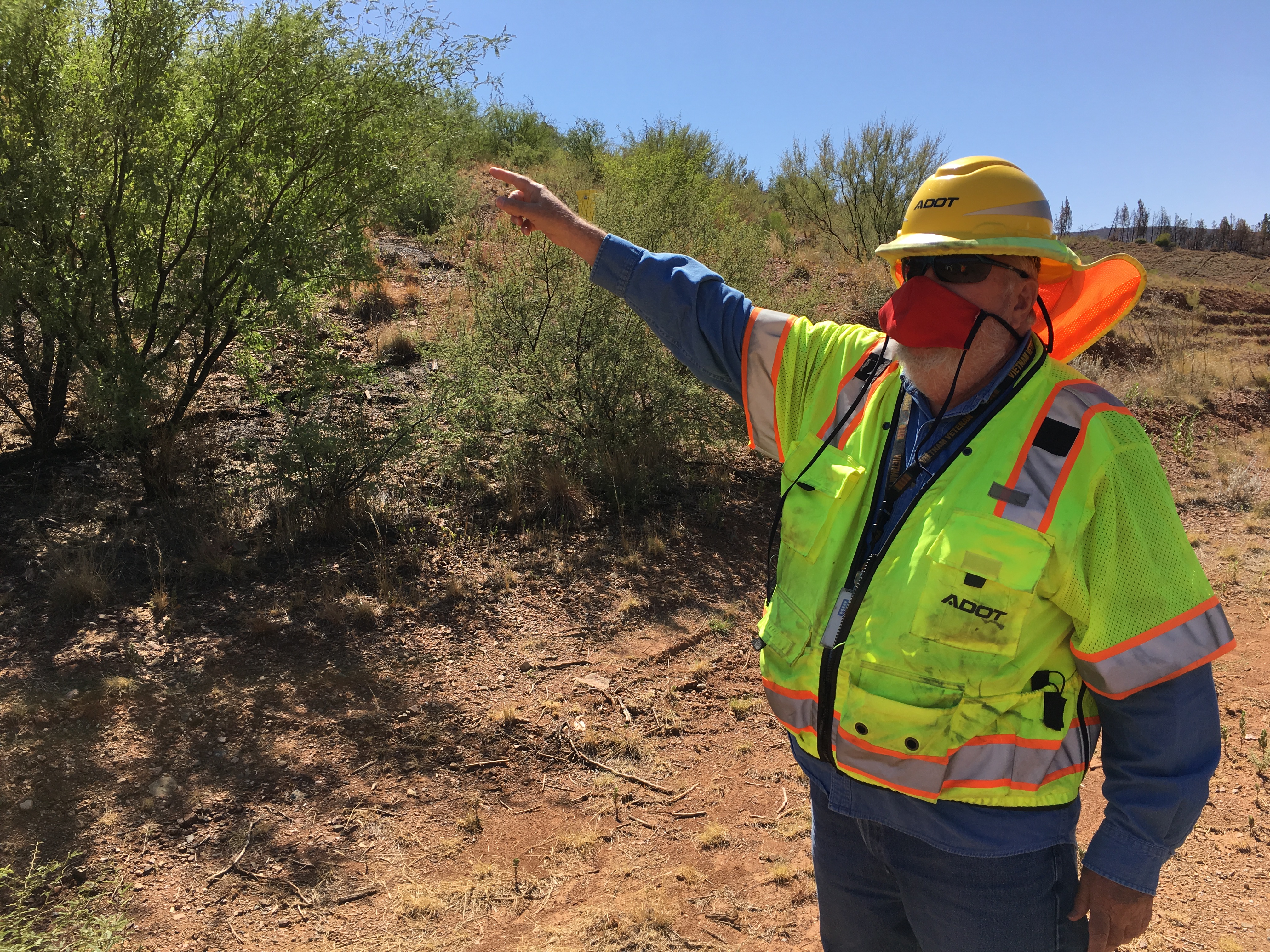 If there's a list of experts on Arizona rocks, then ADOT Geologist James Lemmon's name has to be on it.
Like a detective, Lemmon studies the earth at sites before major projects are built. He also examines soil, rocks and moisture properties at the scenes of geologic hazards such as landslides and mudflows.
 "I investigate what earth materials are there and how they can be safely used in our transportation system," said Lemmon, who works in the Arizona Department of Transportation Geotechnical Design Section-Bridge Group.
 "Whether we cut through them, build on top of them, use them to build up embankments, dig through them for deep bridge foundations, we look at the big picture."
Nearly every road project has a geotechnical component requiring engineering and geology expertise, which is where Lemmon and the other professionals in his section come in.
"It's part art, part science and engineering," he said, which "comes with experience of spending time looking at a (site) and watching how it responds to the natural elements, like gravity and rain."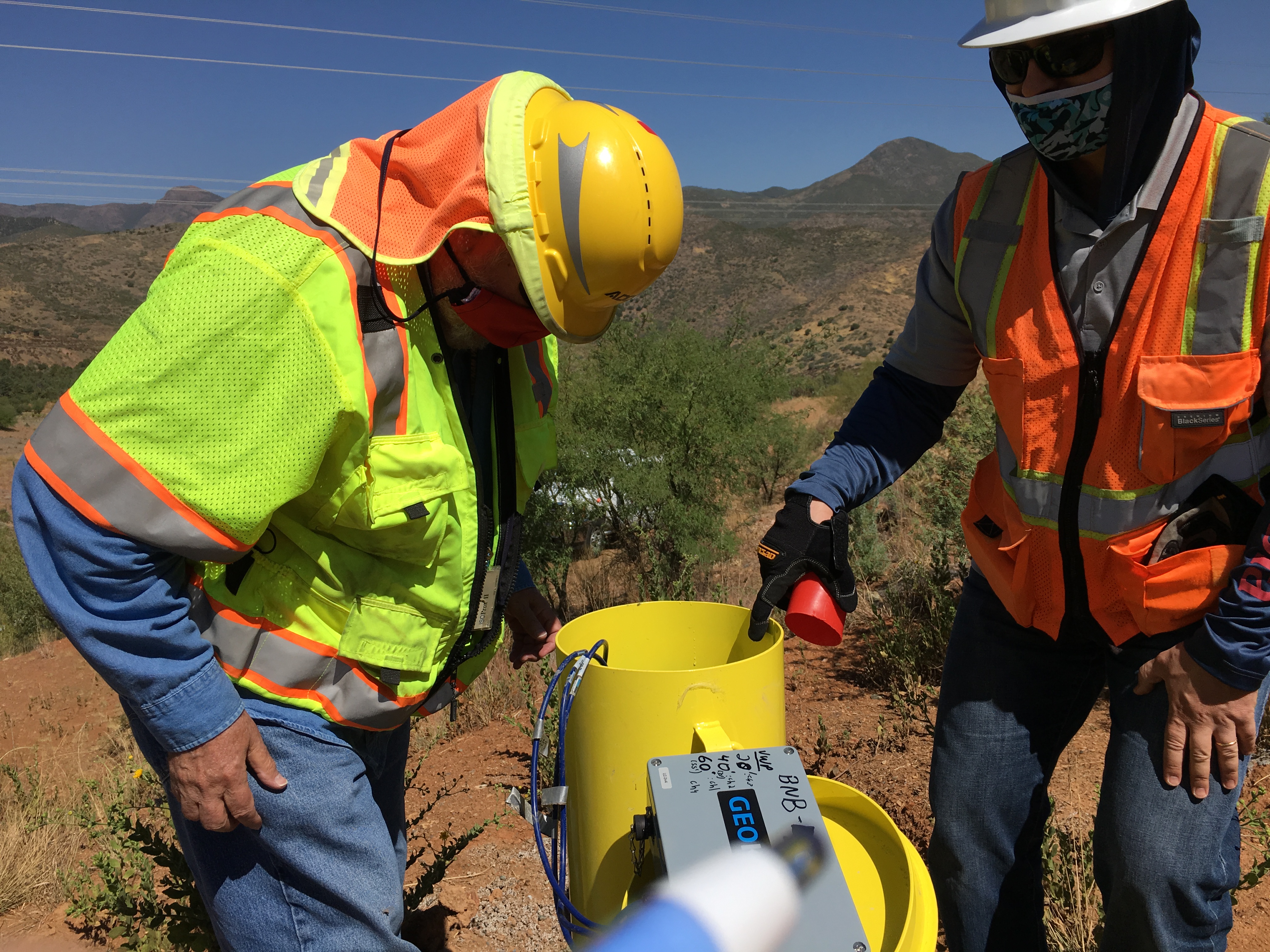 Recently, Lemmon and engineer-in-training Ivan Bystrov stood atop what looks like a small mountain on State Route 87 at milepost 224. This is actually the Sunflower Landslide, the remains of an ancient landslide that reactivated - meaning it's no longer stable - after a hard rain about 14 years ago, Lemmon said. 
"Probably about a half of what I do is geologic hazards: landsides, rock falls, slumping roads, over-saturated ground. We go out and triage that," Lemmon said. 
Water can wreak a lot of havoc on the dry Arizona landscape. Not only when it is part of a powerful storm that picks up rocks and creates landslides, but also when it destabilizes earth.  
One project in the works is removing the top of the Sunflower Landslide to reduce materials that could turn into a landslide, or some other type of hazard, during a powerful storm.  
"The goal is to slope it back, then drill in drainage to lower the soil moisture," Lemmon said.
There are a number of projects in use along State Route 87, mostly aimed at protecting the road from the mountains through which it was built, including soil nail walls, landslide buttresses, mechanically stabilized earth walls along Slate Creek, pinned rock netting, gabion baskets, soil cement and grouted riprap on Slate Creek banks.
 Lemmon has always been fascinated by earth science. From an early age he collected rocks and was fascinated by fossils.
"In 7th grade I did a science project, 'This is a Volcano,' and I got to represent my little school in New Mexico at the science fair," he said.
Lemmon turned that passion into a bachelor's degree in environmental geology from Colorado Mesa University and then a master's in geography from Arizona State University.
He joined ADOT in 2007 as an environmental planner, moving to the Geotechnical Design Section–Bridge Group in 2015. Prior to his time with the agency, he worked for the Arizona State Health Department in groundwater hydrology and then had his own environmental consulting company for 24 years.
But there's more to Lemmon than rocks. He is passionate about both children and education and served as a Tempe Elementary School District No. 3 Governing Board member from January 2002 to December 2018. In fact, the Laird School named its library/technology center the James J. Lemmon Learning Commons, citing his positive impact and his role in rebuilding five of the district's 21 schools.
"What an honor," Lemmon said. "I got involved in the school district 20 years ago when I learned people were moving out of the neighborhood because of the schools."
Curious as to why, he began solving problems at local schools and was successful in a number of energy reduction initiatives, custodial services redesign, numerous campus reconstructions, opening International Baccalaureate for Middle School and a Montessori school, and 13 years of pay raises for teachers and staff.
Lemmon also enjoys teaching the complexities of Arizona geology to others at ADOT. He loves earth science. And he loves his job. By keeping rocks off highways, he gets to make travel safer for Arizonans.