ADOT granted $2 million in immediate federal aid to investigate US 89 landslide
ADOT granted $2 million in immediate federal aid to investigate US 89 landslide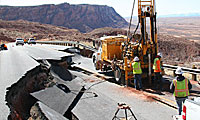 After seeing the photos and video of US 89, it's obvious that a lot of engineering brainpower will be needed to determine the cause of the landslide and what the possible long- and short-term options might be. Seeing the magnitude of the damage might also make you wonder about costs...
Immediate federal aid
ADOT has been granted $2 million in immediate federal aid that can be used to continue investigating the cause of the landslide.
Following Governor Jan Brewer's Declaration of Emergency last week, ADOT asked the Federal Highway Administration for the quick release of emergency relief funds and submitted an initial estimate to complete repairs of $35 million. This estimate may change as further information about the landslide is gathered by engineers.
The quick release funds will be used to assess the damage and the stability of the mountain slope, and conduct emergency operations.
The Federal Highway Administration's emergency relief program reimburses state and local agencies for the repair or reconstruction of highways, roads and bridges that are damaged in natural disasters and catastrophic failures.
"Our budget for emergencies is very limited, and local governments have even greater financial constraints with limited cash available to fund emergencies," said Jennifer Toth, ADOT deputy director for transportation. "This initial allocation serves as a down payment on the overall emergency relief needs for US 89. It will offset the cost for the geotechnical investigation of the landslide area to determine short- and long-term options."
ADOT is currently conducting a geological investigation to determine the stability of the mountain slope in the Echo Cliffs. The agency is also performing damage assessments in the area and a more accurate estimate will be available in the future.