ADOT has a game plan for tackling snow
ADOT has a game plan for tackling snow
By Ryan Harding / ADOT Communications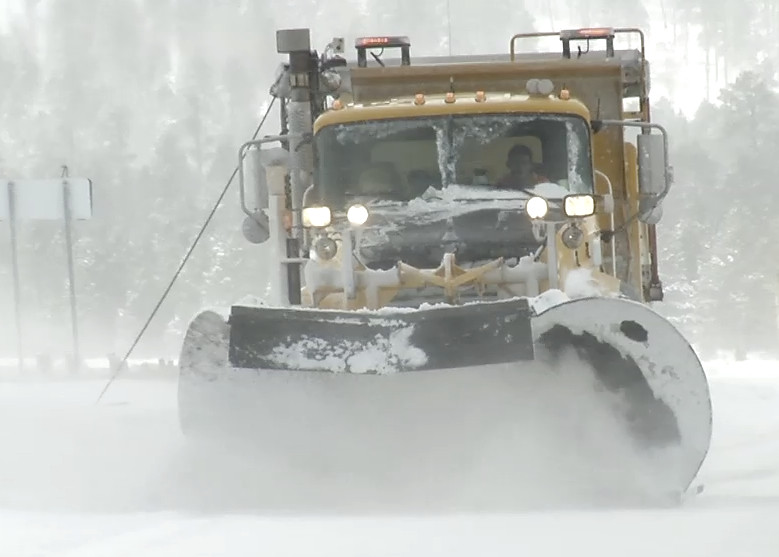 Much like a football team makes a plan to win games, ADOT makes a plan to "win the winter season" by helping to keep highways clear of snow and ice. With thousands of miles of state highway located in areas where it snows, ADOT must carefully plan and deploy its resources to high-priority needs first.
Those high-priority needs are interstates like I-40 and I-17 that carry hundreds of thousands of vehicles and trucks everyday. Many of ADOT's 200 snowplows will be deployed along an interstate like I-40 right before a winter storm so they are ready to go when the first snowflakes begin to fall.
State routes with lower traffic volumes are considered secondary routes because not as many vehicles use these roads. Once the interstates are cleared, ADOT snowplow operators will take care of these local state highways.
ADOT will also "block" certain state highways (that means close) as part of its game plan. SR 67 leading to the North Rim of the Grand Canyon, state routes 261, 273 and 473 in the White Mountains and SR 366 heading up Mount Graham in southern Arizona all close for the winter.
These highways receive a lot of snow during the winter, so given that plus the fact that these roads end at destinations like the North Rim of the Grand Canyon, it makes sense to close these roads so ADOT can keep its snowplows focused on interstates and other state highways. Crews return to these highways in the spring to plow them and get them ready for reopening.
It's important for you to have a winter game plan as well. That plan includes leaving prepared before heading to the snow.
Check az511.gov before you leave to check road conditions. Download the ADOT Alerts and AZ 511 apps. Wait out the storm if possible to give ADOT's snowplows time to clear the highways of snow and ice. Also, take a fully charged cell phone, warm clothing and an emergency kit that includes blankets, food and water, medication and sand or kitty litter.
Check your vehicle before heading out in winter weather, making sure – at a minimum – that the tires, heater and windshield wipers are in good shape.