ADOT to host next International Conference on Ecology and Transportation
ADOT to host next International Conference on Ecology and Transportation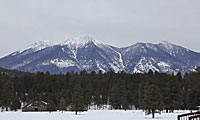 When the 2011 International Conference on Ecology and Transportation wrapped up late last month in Seattle, the very exciting announcement was made that ADOT had been selected to serve as host for the next conference in 2013!
Now, maybe you're not too familiar with the ICOET, but this conference is kind of a big deal!
It's held every two years and showcases research and best practices related to ecology and transportation planning. According to a letter from 2011 ICOET Conference Chair Paul Wagner, each conference brings the participation of hundreds of transportation and ecology professionals from the US and more than 21 countries.
Todd Williams, director of ADOT's Office of Environmental Services, says the conference is a chance to really highlight the great efforts ADOT makes in incorporating ecological concerns into the way we plan, build and maintain our transportation infrastructure.
A couple examples of those efforts include wildlife crossings built on Arizona's highways (more on this next week) and ADOT's vegetation management program.
But, ecology is broader than just wildlife and plants.
"It's about sustainability and long-range conservation transportation planning," Williams said
That's evidenced by just a few of the many presentations from this year's conference: Safety First:
Reducing Wildlife-Vehicle Collisions
New Approaches and GIS Tools for Transportation Planning and Design
Sustainability in Bridges: The Art and Community of Celebrating our Landscape
To be considered as a host for this conference, departments of transportation submit letters and supporting documents telling ICOET officials why their state would be a good spot for the conference.
Williams says based on that application, the ICOET committee narrows down the field and sends out additional questions to transportation officials in just a few states they're considering. From there, they select the host state DOT.
And, while ADOT is the host for the 2013 conference, there will be plenty of co-sponsors and a lot of collaboration from other agencies, like Arizona Game and Fish, Forest Service officials and universities, according to Williams.
Take a look at the video above … it was shown at the end of this year's conference and gave participants a look at why Arizona is a great venue for the next ICOET!