ADOT iShare Innovation Showcase highlights new ideas
ADOT iShare Innovation Showcase highlights new ideas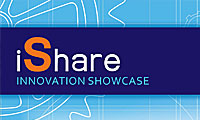 Over the past 100-plus years, ADOT has documented, cataloged and filed right of way plans on every mile of highway in the state.
That's a lot of paperwork and those plans, especially the older documents, are difficult to share for many reasons. The retrieval process can be time-consuming for employees and, until fairly recently, necessitated a phone call or in-person visit for those in search of the records.
The agency's Right of Way Plans Section worked to find a new way of doing things and the solution they developed was one of the many inventive process-improvements highlighted during ADOT's first iShare Innovation Showcase.
Held last month in Phoenix, the showcase gave Chief Right of Way Agent Paula Gibson an opportunity to share with her peers the details of "Plans on Demand," a convenient, online catalog of interlinking PDF documents that gives users easy access to existing right of way plans and maps.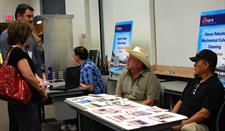 "It is really cost effective and easy to use," Gibson said.
Similar statements were repeated throughout the internal-agency event as ADOT employees relayed more than a dozen ideas that have helped them to streamline efforts while also saving money and time.
Maintenance lead Bob Freson shared how crews are using new methods to repair fence in ADOT's Flagstaff District by utilizing an auger adapter that quickly coils barbed wire, along with an attachment for a skid-steer loader that allows crews to quickly unroll four rolls of wire at a time.
"We get almost a brand new fence at a much lower cost than a contractor could do it," Freson told the crowd.
Lead Applications Developer Johnathon Sullinger presented a newly developed app that gives ADOT inspectors the ability to use tablets to document and report findings. This improvement saves time, improves performance and increases the portability of the reporting technology.
"It makes things easier for them," Sullinger said. "They have a lot more control and can get the results they need much faster."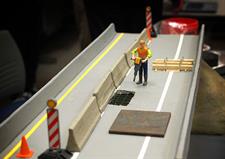 Johnny Robbins, a maintenance supervisor for ADOT's Gray Mountain unit, shared how his crews created a brand new method for clearing out drainage culverts using readily available equipment – a couple of front-end loaders, a section from a guardrail end-treatment and some teamwork. Dubbed a "culvert dozer," the creation helps crews to save time and money.
"Talk about taking some simple things we already have and repurposing them in a completely innovative way," said ADOT Director John Halikowski, adding that the innovations shared during the showcase don't only represent a money savings to the agency, but also show that an innovative culture is being encouraged at ADOT.
Dr. Jean Nehme, director of Performance, Management and Research for ADOT, echoed those sentiments.
"This showcase has shown the ingenuity of ADOT employees," Nehme said.