ADOT launches mobile version of site
ADOT launches mobile version of site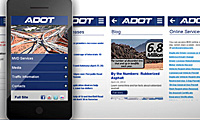 These days, you don't necessarily have to have a computer to view a website – there are tablets and smartphones that allow you to go online while you're on the go.
That's why ADOT has launched a mobile-friendly version of its website (maybe you're reading this right now on the mobile version)...
The new version of ADOT's website offers access to MVD online services at ServiceArizona.com as well as MVD office locations and hours with approximate wait times for offices statewide. There are also links to ADOT's Traveler Information System (AZ 511) and Twitter account for up-to-date traffic information.
You can also easily read our blog, news releases and find a contact list of main ADOT phone numbers.
ADOT's Web server automatically recognizes mobile devices and loads the mobile version of the site when smartphone and tablet users go to the ADOT website, azdot.gov. However, you do still have the option to view the full website on your mobile device.
Of course, it should go without saying, ADOT advises people not to access the mobile site on their smartphone or tablet while driving.
Check out the new version by visiting azdot.gov with a mobile device.