ADOT makes more traffic cameras available on az511.gov
ADOT makes more traffic cameras available on az511.gov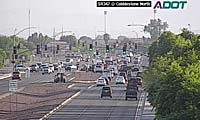 By Caroline Carpenter / ADOT Communications 
We can tell you about traffic, but there's nothing like being able to see it for yourself. The good news is ADOT has traffic cameras stationed all across the state to give you a look at traffic and weather conditions before you head out the door.
The list of camera views available via az511.gov continues to grow with two major additions.
Maricopa residents and those traveling through Maricopa now can view nine high-definition cameras placed along major intersections on State Route 347 from Riggs Road to Farrell Road.
Those traveling the Loop 202 Santan Freeway in the southeast Valley can also get a view of their route online. Cameras from Loop 101 Price Freeway to Ray Road can be accessed on AZ511.gov.
Drivers have told us through social media they're checking the cameras.
is that a new HD camera? Looks slick.

— Thomas (@th3_accountant) September 3, 2016
You got it!

— Arizona DOT (@ArizonaDOT) June 21, 2017
ADOT has more than 300 cameras stationed across the state that are viewable online. Besides showing road conditions, traffic cameras are used to quickly spot crashes, allowing first responders to better locate traffic incidents and allocate appropriate resources. This helps reduce secondary crashes and improves traffic congestion. All of this makes our highways safer.
Before you grab your keys and head out the door, make sure you've scouted your route out on az511.gov!