ADOT MVD awarded for customer service, convenience
ADOT MVD awarded for customer service, convenience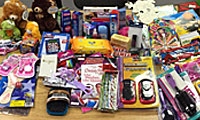 By Dani Weber
ADOT Office of Creative Services
ADOT and its employees are dedicated to serving the public, both on the clock and off. Last month, the Motor Vehicle Division of ADOT was recognized by the American Association of Motor Vehicle Administrators with two different awards for ways they've served the public.
The first award was the Community Service Award — which recognizes "give back" programs like food drives and gifts for children — for our Holiday Stockings program. This program is unique to ADOT and has MVD employees or employee teams create themed stockings filled with toys and treats. Staff vote on their favorite, but all stockings are donated to organizations supporting women and children affected by domestic violence, including the Sojourner Center in Phoenix and the Brewster Center in Tucson. This year's theme was "Dr. Seuss," and as you can see from the photos, the employees had a lot of fun with it!
Julie Potter, the customer service representative who took the donations to the charity, said, "The smile on the face of the representative from The Brewster Center made me realize the impact it had.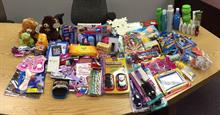 Also, with our team being so new at the time, it really was a unique bonding experience for us and brought us together as a team."
The second award was the Customer Convenience Award, which recognizes efforts to make life easier for MVD customers through such methods as offering or enhancing online transactions, improved payment options or the ability to speed up services. AAMVA awarded ADOT MVD with this honor for expanding driver license transactions to additional Authorized Third Parties, which is alleviating some of the traffic in MVD offices and is giving customers more service options. There are currently 17 locations offering driver license services and there are more to come. Many have extended hours and are open on Saturdays. The aim is to make lines short and faster for everyone, and these ATP locations are really helping us achieve that goal.
In response to the awards, MVD Director Eric Jorgensen said he was "grateful to AAMVA for recognizing MVD programs and [congratulates] our dedicated employees who are committed to providing outstanding service to our customers and our shared communities."
We're all humbled to be recognized by the AAMVA and will continue to try to improve the lives of all our customers in every way we can.