ADOT opens two ramps connecting Loop 303, I-10
ADOT opens two ramps connecting Loop 303, I-10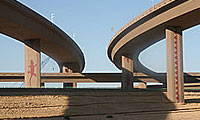 Work on the Loop 303/I-10 traffic interchange started near the end of 2011 and now, more than two and a half years later, the project is nearly complete – in fact, two ramps are already open to traffic!
If you made it out to the site last Saturday for ADOT's open house, you got an up-close look at all that progress. If not, we've got you covered with today's video…
In it you can see that besides being an opportunity for visitors to check out the interchange, the event also offered the chance to reflect on what the new connection means to the area.
"This is so much bigger than just a freeway expansion," says Gov. Jan Brewer in the video above. "It opens up our state to the growing communities in the West Valley, expanding commerce and easing travel throughout the region."
ADOT Director John Halikowski also noted how the improvements to the area's transportation system, including the $145 million Loop 303/I-10 interchange, will make a difference.
"As many of the freeway loops do, it represents connectivity, not just between cities here in the west Valley, but between cities all over the Valley," Halikowski said.
Two ramps now open
On Aug. 17, ADOT opened two of the elevated ramps, providing drivers with the first-ever direct connection between I-10 and the Loop 303.
Motorists can now use the interchange to travel from southbound Loop 303 to eastbound I-10 and those headed east on I-10 now have a faster way to reach northbound Loop 303.
The remaining two ramps at the interchange (westbound I-10 to northbound Loop 303 and southbound Loop 303 to westbound I-10) are expected to open by September.
For more information on this project and to see its progress, revisit some of our previous blog posts. You can also see photos of the Aug. 16 open house event on the ADOT Flickr page.