ADOT, partners helping reduce risk of catastrophic wildfires
ADOT, partners helping reduce risk of catastrophic wildfires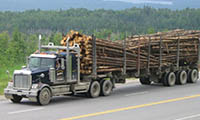 By Tom Herrmann / ADOT Communications
For many, the Wallow Fire of 2011, the largest wildfire in Arizona history, is becoming a distant memory. The fire, which burned from late May until early July, consumed more than 538,000 acres in eastern Arizona and western New Mexico and forced evacuations in a number of communities.
The Arizona Department of Transportation and others concerned about the health of Arizona's forests and infrastructure have not forgotten, and we're doing something to reduce the chances of a repeat.
ADOT partnered with the Arizona Department of Forestry and Fire Management, the Eastern Arizona Counties Organization and others to launch the Healthy Forest Initiative. To help clear small trees and vegetation that can fuel catastrophic wildfires, the initiative allowed timber industry trucks to carry heavier loads – 90,800 pounds, compared with a statewide limit of 80,000 pounds – on designated roads in eastern Arizona.
We shared recently that the Healthy Forest Initiative is taking another step forward, with logging industry trucks allowed as of Jan. 1, 2020, to carry up to 91,000 pounds if they add a sixth axle to their vehicles. That additional axle, usually a third axle located at the rear of the trailer, will spread out the weight and reduce the potential damage to Arizona roads and bridges. The photo atop this post shows the configuration being used in another state.
The larger loads make it possible for timber companies to continue helping to reduce the risk of large fires. In addition, the area covered by the Healthy Forest Initiative, originally the forest between Payson and the New Mexico, has been has been extended west to Camp Verde and north to Winslow and Holbrook.
The Healthy Forest Initiative also boosts eastern Arizona's economy and helps protect the watershed.
Most of what we do at ADOT involves things you would expect, like building roads and maintaining bridges. But protecting Arizona's special environment is important to us too.