ADOT partnerships at work on I-15 Virgin River Bridge No. 6
ADOT partnerships at work on I-15 Virgin River Bridge No. 6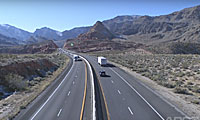 Cooperation and partnerships are important on any big project, but maybe even more so on one like the I-15 Virgin River Bridge No. 6 rehabilitation.
The site's remote location and the fact that there are limited alternative routes make collaboration crucial.
"ADOT tries to meet with local government and emergency responders on every project and talk about emergency access plans," says ADOT engineer Adam Carreon. "Everybody knows what's happening, everybody knows what our options are. We plan for any event and when something happens we all know what we're doing."
That planning paid off recently...
As you can see in the video above, the driver of a truck pulling a set of triple trailers through the work zone lost control of the third trailer – it tipped and fell against the median wall. After the driver pulled over, two of the trailers were still blocking the highway.
The ensuing coordination between the Department of Public Safety, ADOT and the contractor got traffic moving quickly and ultimately saved drivers from delays of about three hours.
Learn more on why partnering is valuable by checking out these previous posts. You can also find project details on our blog.