ADOT plans shorter detour for highway closed by landslide south of Page
ADOT plans shorter detour for highway closed by landslide south of Page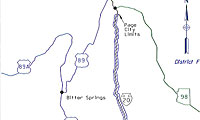 We've got some good news for drivers whose commutes have been impacted by the US 89 landslide...
At a special meeting of the State Transportation Board yesterday, the board approved $1 million to design improvements to Navajo Route 20, a Navajo Nation tribal road that runs parallel to the damaged highway.
That means ADOT is a step closer toward establishing a shorter detour route for those drivers who travel daily to Page and the Lake Powell area.
While not a long-term solution, this will help the thousands of motorists who are inconvenienced daily by the unscheduled detour caused by last month's landslide.
"ADOT has been working with the Navajo Division of Transportation, the Navajo Nation and the Bureau of Indian Affairs to pave N20 as an interim measure to shorten the detour route between Flagstaff and Page," said Dallas Hammit, ADOT deputy state engineer of development. "With assistance from the Federal Highway Administration, we are looking to use federal emergency relief funds to restore essential traffic in the region, while we work on the ultimate repair on US 89."
As part of ADOT's plans to improve the existing 44-mile-long tribal route, which is mostly a dirt road stretching from Bodaway-Gap to LeChee, ADOT would designate the road as Temporary US 89 (US 89T).
ADOT would pave the road and ensure that it could carry commercial truck traffic, while repairs are made to US 89. The agency is already working with potential contractors and construction could begin as soon as late spring.
The project is expected to take three to four months to complete.
The ability to pave Navajo Route 20 is contingent upon agreements being reached with several stakeholders, including the Navajo Division of Transportation, the Navajo Nation, the Bureau of Indian Affairs and the Federal Highway Administration.
After the reconstruction of US 89 is complete, the road will be relinquished to the Navajo Nation. There is no timetable for reopening the highway, but ADOT is committed to restoring this important travel route as soon as safely possible.