ADOT Safety Calendar helps promote safe working culture
ADOT Safety Calendar helps promote safe working culture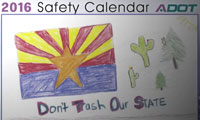 You know that ADOT is all about transportation safety. From work zone safety and weather-related travel tips to Pull Aside and Move Over, we try to make sure motorists have all the tools they need to stay safe on the road…
What you might not know is that ADOT also promotes transportation safety to its employees (just working here doesn't automatically make you an expert – we all need safety reminders once in a while!).
One way we do that is through the annual ADOT Safety Calendar.
Produced since 2003, the calendar features original artwork submitted by child relatives of ADOT employees. The drawings focus on different safety messages, including distracted driving, seat belt safety and wrong-way drivers.
ADOT recently celebrated this year's artists with a fun ceremony. Our video team asked them to elaborate on their safety messages. We'll be sharing the videos throughout the year on Facebook and hope you enjoy seeing how important safety is through the eyes of children. We hope their messages will remind us all to slow down and pay attention to what we are doing on the road.