ADOT selects preconstruction contractor for emergency repairs on US 89
ADOT selects preconstruction contractor for emergency repairs on US 89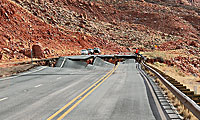 We've got some good news to share with you today about US 89…
Just last week, ADOT finalized an agreement with a contractor for preconstruction engineering services, which includes assistance with the final design and construction logistics for the ultimate fix.
That means ADOT is one step closer to its goal of starting the US 89 landslide repair to reopen this roadway by the end of the year (see, we told you it was good news)!
US 89T contractor will work on landslide repair preconstruction
Tempe-based FNF Construction, Inc. was selected by ADOT as the contractor for pre-construction services on the landslide-damaged highway that links Bitter Springs and Page.
FNF Construction is the same contractor ADOT successfully partnered with to complete the Temporary US 89 (US 89T) project, which now serves as the primary detour to and from the Page and Lake Powell areas. If you've been following along with us for the past year, you'll remember that the previously unpaved Navajo Route 20 was paved in only three months to become US 89T, which opened to traffic in August.
Through a Construction-Manager-At-Risk contract, FNF Construction will work with the project design team. This early collaboration can lead to completing projects faster with reduced costs. Preconstruction services will also include the design of access roads at the project site that will be needed when construction starts as anticipated this summer.
One important thing to point out – this new preconstruction agreement with FNF Construction does not include the construction project to repair US 89. That contract is expected to be finalized later this spring.
What's ahead?
Recently, ADOT received the necessary environmental and utility clearances on the ultimate repair of US 89. Without the clearances, ADOT cannot use federal funds for this repair project.
ADOT also continues to work with the Navajo Nation on obtaining the new right-of-way easements that will be necessary prior to construction. An agreement between the Federal Highway Administration, Navajo Nation and Bureau of Indian Affairs must be reached to establish an expanded easement that facilitates construction, as well as operations and maintenance, of the repaired roadway.