ADOT snowplow drivers are prepared for the season
ADOT snowplow drivers are prepared for the season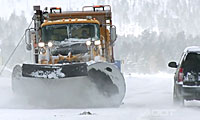 "The safest location for drivers would be to try to stay behind a plow at a safe distance. ... If you're behind a plow, you're going to get from point A to point B."
That's the message ADOT snowplow drivers want you to remember when driving in the snow this season.
Snowplow operators have a serious job to do and it's important that everyone else on the road gives them the room they need to do it safely. That means staying at least four car lengths behind a plow (if you think you're too close to a snowplow, you probably are). You also shouldn't try to pass these vehicles … just stay back and let them clear the road. Snowplows are large, heavy vehicles that need room to operate.
Ready for the winter
Winter safety is a year-round focus for ADOT. In preparation for this year's winter storm season, more than 450 ADOT employees and snowplow operators attended a Winter Readiness Academy in Flagstaff this summer. The training workshop included instruction from industry experts and some of own ADOT's in-house experts.
Several hours in the classroom, snowplow simulators and on-the-job training are also required of any ADOT employee before becoming a certified snowplow operator.
"The work that they do is difficult and dangerous. They work long shifts and so it's important that they be well trained and prepared to do that task," says Assistant State Engineer Lonnie Hendrix of ADOT's 450 plow operators.
Learn more about winter driving and snowplows, by visiting our "Know Snow" Web page.