ADOT Twitter named best state government account of 2019
ADOT Twitter named best state government account of 2019
By David Rookhuyzen / ADOT Communications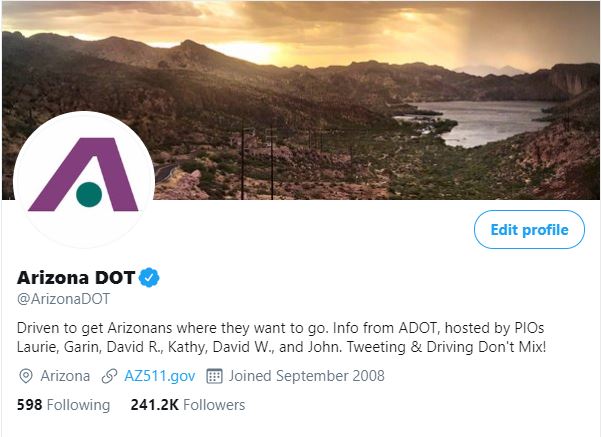 We've been doing this Twitter thing for more than a decade now, and we think we are getting the hang of it.
But don't just take our word for it. Our Twitter account, @ArizonaDOT, with more than 241,000 followers, has received multiple honors, including last year from the American Assocation of State Highway and Transportation Officials. 
And we can add one more feather to our cap because the Phoenix New Times recently named us the Best Government Agency Twitter for 2019. 
"Its messages are pithy, clever, and sometimes even saucy – nearly as good as the traffic messages and warnings they display along the highway," New Times said.
We don't know about all of that, but we do like letting people know what's happening out there on the highways, whether it be crashes, backups, saxophone sessions, lost canoes, javelinas or sometimes nothing at all.
New Times did point out, and we heartily agree, that our account is about more than alerting folks that a Howitzer or the Oscar-Mayer Wienermobile is rolling through town. We are on social media primarily to let people know when a bad crash is blocking their way into the work, warn about hazards in the road or provide drivers with real-time information about adverse weather conditions. Our Twitter feed is also a place to find information about public meetings, upcoming construction and the latest agency news.
If you are not already one of our followers, please join to find the latest information about state highways. And if you are lucky, we might even be pithy and clever from time to time.