ADOT utilizing technology to conduct efficient commercial vehicle safety inspections
ADOT utilizing technology to conduct efficient commercial vehicle safety inspections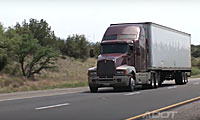 Many drivers have noticed some new technology that's been installed at three rest area locations.
No, they're not speed enforcement cameras, in case that's what you were wondering...
The technology is actually designed to help ADOT's Enforcement and Compliance Division (ECD) conduct more efficient commercial vehicle safety inspections. Right now, the new technology is in place at the McGuireville (I-17 between Flagstaff and Camp Verde), Canoa Ranch (I-19 between Tucson and Nogales) and Sacaton (I-10 between Phoenix and Casa Grande) rest areas.
How the system works
It all starts with a standard advisory sign along the roadway placed about a mile and a half before the rest area entrance. That sign directs commercial motor vehicles to move into the right lane of travel. As the truck travels closer to the rest area, it'll drive over a weigh-in-motion sensor embedded in the roadway to determine the approximate vehicle weight. Simultaneously, camera images of the vehicle are captured to check the status of the vehicle registration, U.S. Department of Transportation number, fuel tax assessment and carrier safety records.
If the system determines a commercial motor vehicle is in violation of weight requirements according to federal or state regulations, the driver is directed by roadside digital message signs to pull into the rest area. Then, inside a section of the rest area, ADOT's ECD officers will conduct a more in-depth inspection of the commercial vehicle.
The new system has several advantages.
Because only non-compliant vehicles are directed by the message boards to stop for an inspection, it's expected that this technology will help motor carrier companies save time and money. The new system will also help cut down on traffic congestion in the rest areas since fewer commercial motor vehicles are required to be inspected.
"Trucks that are overweight will do more damage to the pavement surface," says ADOT Public Information Officer Harold Sanders in the video above. "We make sure that they are properly permitted and that they pay the appropriate user highway fees, which are used to do the maintenance and repair of the roadway surface."