ADOT Year in Review, part 3
ADOT Year in Review, part 3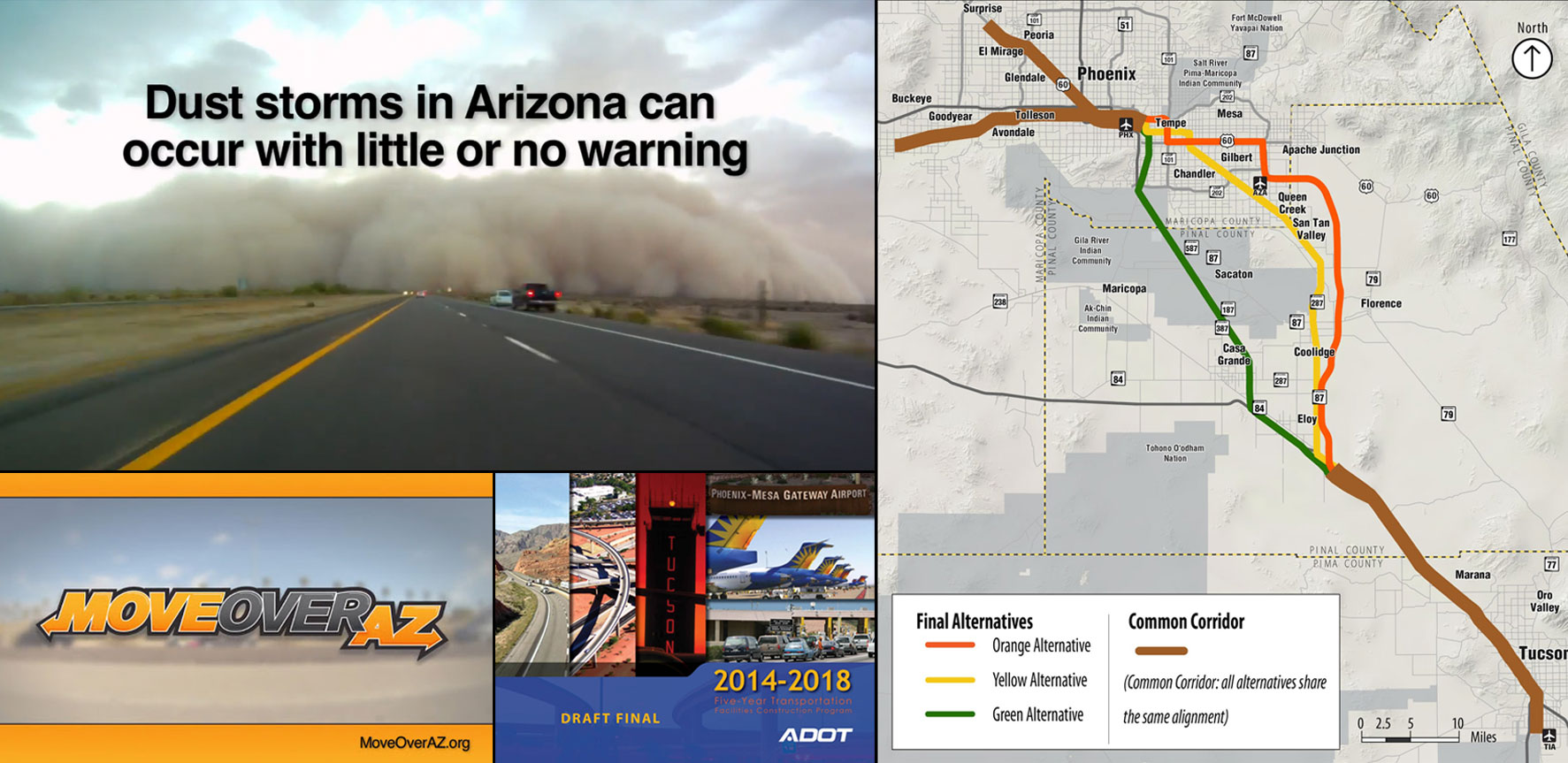 It's the third (and final) day of our 2013 wrap-up…
We've already covered the milestones related to Phoenix-area freeways and the state highway system, so today we're going to turn our attention to some of the planning, campaigns and other accomplishments that took place last year.
I-11 and Intermountain West Corridor Study
In 2013, the Arizona and Nevada departments of transportation have made significant progress on the Interstate 11 and Intermountain West Corridor study. The study team completed the Corridor Justification Report, explored the universe of alternatives for potential routes from Mexico to northern Nevada and held a series of public meetings this past fall that featured the narrowed list of corridor alternatives that will move forward for further analysis.
ADOT's Passenger Rail Corridor Study
ADOT continues to study the concept of connecting Phoenix and Tucson by passenger rail. In 2013, the study team narrowed the list of alternatives from seven to three.
ADOT's Public-Private Partnership Program
The first two public-private partnership projects are now underway at ADOT. Fourteen state highway rest areas are now managed under one contract under the agency's first active public-private partnership. Under the five-year agreement, Infrastructure Corporation of America, a private company, took over the maintenance and operations of all 14 rest areas, and is implementing a sponsorship and advertising program to generate additional revenue that will help fund rest area operations.
ADOT is also set to relocate to new offices in Flagstaff as part of a public-private partnership designed to acquire new facilities for the agency and free up prime land for local redevelopment. The department is currently working through the pre-development agreement with Vintage Partners, an Arizona-based development firm, as the developer that will relocate and consolidate the agency's offices in Flagstaff.
"Move Over, AZ"
In March, ADOT, along with the Arizona Department of Public Safety and several key partners, launched the "Move Over, AZ" public awareness campaign in an effort to prevent roadside crashes that result in hundreds of deaths and injuries to highway patrol officers, emergency responders, tow truck operators, roadside workers and motorists across the country every year. Similar to Move Over laws in other states, Arizona's law requires all drivers to move over one lane, or slow down and use caution if changing lanes is not possible, when traveling past any vehicle with flashing lights that is pulled to the side of the roadway.
Pull Aside, Stay Alive
Prior to the start of monsoon season, ADOT launched "Haboob Haiku: Year Two" in an effort to share important messages related to dust storm safety.
Arizonans were once again asked to submit their haboob haikus on Twitter. Read 2013's top haboob haikus in this blog post from June.
A few more highlights…
MVD continued its focus on providing quality customer service. MVD and its partners safely and efficiently handled more than 16 million transactions online, in person and through the mail, which accounted for more than $1 billion in state revenue. New MVD offices were opened in Payson and Nogales. ServiceArizona.com was redesigned with an updated, modern look to provide an improved user experience and a new feature allowing customers to check for liens before buying a vehicle. Read more about MVD's year in our blog archives.
Last year, ADOT invested $245 million on 46 pavement improvement projects to restore 865 miles of highways across the state.
In 2013, ADOT delivered 242 completed projects across the state for a total investment of approximately $1 billion.