ADOT YouTube channel nears milestone
ADOT YouTube channel nears milestone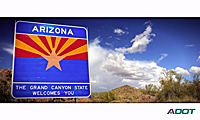 We're about to hit a big milestone over on the ADOT YouTube channel.
As of this moment we have 499,498 views, which is pretty close to half a million, which is really impressive considering ADOT launched its YouTube channel just five years ago...
In that time, we've shared a couple hundred videos on everything from bridge demolitions and caissons to Arizona's big birthday, the value in partnering and runaway truck ramps.
Besides being entertaining and educational, every single one of the videos has helped ADOT to connect with you, the driving public! Our hope is that by producing these videos, we can continue to offer a better visual understanding of construction projects, traffic-related incidents, public safety campaigns, agency services and more.
So, what do you say ... can you help push us up to 500,000 views this weekend?
If you're not sure where to begin, you might want to start by checking out some of our playlists. We've got several of them, allowing viewers to easily access information on construction projects, transportation safety and a series of short, interesting videos that are worth checking out.
If you have a favorite video, we'd love to hear from you! And, if you have any suggestions for future videos, let us know.
Before you head over to YouTube check out our channel, we'd like to say thanks for watching!!