ADOT's bicycle and pedestrian plan rolls out public comment period
ADOT's bicycle and pedestrian plan rolls out public comment period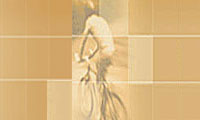 ADOT's statewide Bicycle and Pedestrian Plan has come a long way since we first told you about it last May…
Back then, ADOT was asking people across Arizona to share their thoughts on getting around by bike or by foot along our state highway system.
Today, we're looking for feedback again, but this time around the plan is closer to being finalized and ADOT wants to know what you think of the draft final report.
"We're calling on the public and members of the bicycling and pedestrian communities to provide us with their ideas on the 24 recommended strategies that are outlined in the draft final report," said Michael Sanders, ADOT's bicycle and pedestrian program coordinator. "It's this kind of feedback that allows us to refine the goals and objectives of the Bicycle and Pedestrian Plan and continue our work to develop changes in safety, infrastructure, and education, as they apply to our state highway system."
The recommended strategies fall into three categories: plans and policies; education, enforcement, encouragement and evaluation; and bicyclist and pedestrian infrastructure. All of these strategies are aimed at building on programs and policies that first began in 2003 with the launch of ADOT's first comprehensive Bicycle and Pedestrian Plan.
More about the plan
The updated Bicycle and Pedestrian Plan is expected to be finalized this spring. Last summer, more than 1,800 people responded to a survey during the first phase of public involvement for the plan update. The end of 2012 also brought the finalization of the Bicycle Safety Action Plan, a task defined in the 2003 Bicycle and Pedestrian Plan.
ADOT's Bicycle and Pedestrian Plan was developed as part of a federal long-range bicycle transportation and pedestrian walkways plan. It is also part of Arizona's Long Range Transportation Plan, also known as "What Moves You Arizona."
How to give your feedback
The public comment period runs until Feb. 8. You can find the draft final report and the comment form can be found on the ADOT website.
Paper copies of the comment form can be requested by calling 602.712.8141or by sending the request to ADOT's Bicycle and Pedestrian Program at 206 S. 17th Avenue, Mail Drop 310B, Phoenix, AZ 85007.