ADOT's commitment to wildlife honored in national awards competition
ADOT's commitment to wildlife honored in national awards competition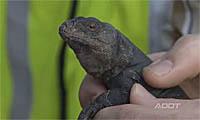 By Dustin Krugel / ADOT Communications
Help the chuckwallas.
That was one of the Arizona Department of Transportation's goals prior to starting construction of the Loop 202 South Mountain Freeway through a corner of South Mountain Park.
In summer 2017, ADOT teamed with biologists from the Arizona Game and Fish Department and Gila River Indian Community's Department of Environmental Quality to relocate approximately 120 chuckwallas, large lizards common in the Southwest and northern Mexico, in a small portion of the South Mountain Park/Preserve where the freeway will pass. Unlike most other species, chuckwallas will hide in cracks rather than flee when threatened.
ADOT's video team documented this effort in the video above by shadowing several biologists during some early morning hikes in the sweltering heat.
Now the video has been recognized nationally by American Association of State Highway and Transportation Officials (AASHTO), earning third place award in video in the 13th annual "Faces of Transportation" competition.
"We are thrilled that so many talented artists shared their perspectives on transportation in this year's competition," said Lloyd Brown, AASHTO director of communications and marketing. "The photos and videos nominated in this year's competition highlight the often overlooked role that transportation plays in our communities and our overall quality of life."
Photos of the chuckwalla relocations are also available on ADOT's Flickr page.