ADOT's pedestrian hybrid beacon study wins national award
ADOT's pedestrian hybrid beacon study wins national award
By Lori Baker / ADOT Communications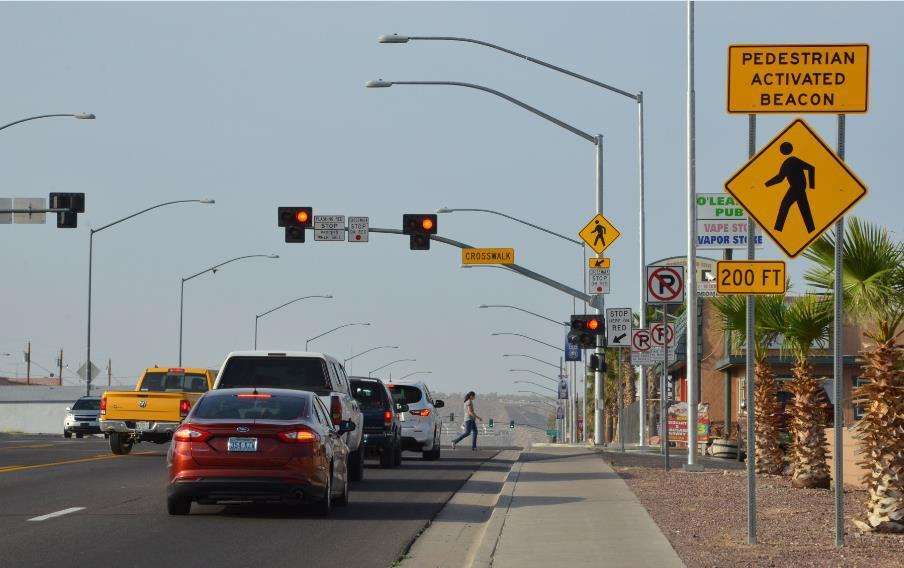 An ADOT research study about pedestrian hybrid beacons received a national award from the American Association of State Highway Transportation Officials (AASHTO).  
The study evaluated pedestrian hybrid beacons, which are traffic control devices that assist pedestrians crossing a street or highway at a marked but unsignaled crosswalk. This special type of traffic light uses a system of indicator lights and signs that alerts drivers and controls vehicle traffic.
The "Evaluation of Pedestrian Hybrid Beacons on Arizona Highways" study, conducted by the Texas A&M Transportation Institute, assessed a total of 10 beacons in Bullhead City, Gilbert, Pima County, Phoenix, Scottsdale, Sierra Vista, Tempe and Tucson, said Senior Research Project Manager Bill Stone, who managed the study. 
"Previous studies showed beacons improved pedestrian safety with posted speed limits of 30 to 40 miles per hour. The new study found that beacons were also effective on higher-speed roads, with speed limits ranging from 40 to 50 miles per hour," Stone added.
The ADOT study showed drivers yielded at high-speed beacon sites an average of 97%. There also was a 25% reduction of severe total crashes, a 46% reduction of pedestrian-involved crashes and a 29% reduction of severe rear-end crashes.
This is the first time that ADOT has received AASHTO's "Sweet 16" award, which recognizes the top 16 "High Value" research projects for 2020.