After pavement sealing, an employee invention helps reopen freeway sooner
After pavement sealing, an employee invention helps reopen freeway sooner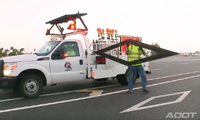 By Caroline Carpenter / ADOT Communications
Most of us drive over pavement markings every day and don't think twice about it. Fortunately for drivers, ADOT employees are thinking about them.
Each time ADOT closes a roadway to treat the pavement with a rejuvenating oil seal, each HOV diamond marker has to be repainted. This means the highway must stay closed longer while this work is completed. A group of ADOT maintenance workers came up with a way to preserve the HOV markings, thus shortening highway closure time.
The video above explains how the innovative method used and all the benefits of it.