Air quality impact studied by ADOT before projects move forward
Air quality impact studied by ADOT before projects move forward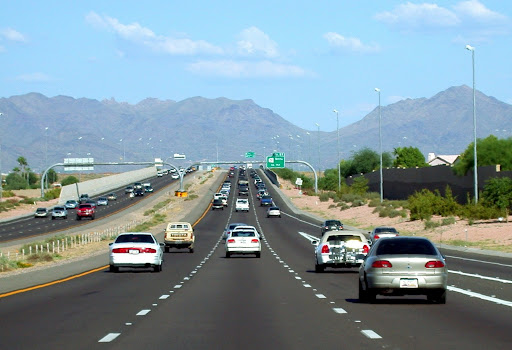 A couple months ago we told you how ADOT works to minimize the noise impact a new freeway has on surrounding neighborhoods.
Well, similar efforts also are made when it comes to air quality …
ADOT is committed to improve air quality by making sure all projects comply with federal, state and local air quality laws and regulations.
That means ADOT's Environmental Planning Group evaluates every ADOT transportation project to ensure air quality standards will be maintained.
ADOT Noise and Air Specialist Fred Garcia says smaller projects go through a qualitative review by his team to determine if the road work will have any impact on air quality. Larger projects (ones that increase traffic capacity or that have changes in the vertical and/or horizontal alignment) will go through a much more extensive quantitative analysis.
That quantitative analysis includes a sophisticated computer modeling process that helps predict localized air pollution concentrations in neighborhoods near the project.
According to Garcia, ambient background measurements must be taken first. ADOT gets these figures from either Maricopa County or from the Arizona Department of Environmental Quality.
That baseline number helps the modeling program generate an emissions report. From there, other conditions are entered into the program, including vehicle counts, atmospheric conditions and emission dispersion rates.
The program produces a report that can tell ADOT what the concentration of carbon monoxide will measure at different distances away from the future freeway.  The program is so sophisticated that it even takes the future design of cars into account. In coming years, vehicle manufacturers are required to make cleaner and more efficient engines … the computer program can factor that into its predictions.
Once the quantitative analysis is complete, ADOT can tell if air quality predictions will meet standards set by the U.S. Environmental Protection Agency. If standards are met, the project can move forward. If not, the project is modified to help meet those standards.
Transportation isn't the only factor contributing to air pollution. Construction, manufacturing, and even wind, weather and Arizona's terrain play a role. However, there are things everyone can do to help minimize their impact, including carpooling, using mass transit and driving less during rush hour.
For more on air quality and ADOT's Environmental Planning Group, visit their webpage.