Altar Valley volunteers clean up litter all the way to the border
Altar Valley volunteers clean up litter all the way to the border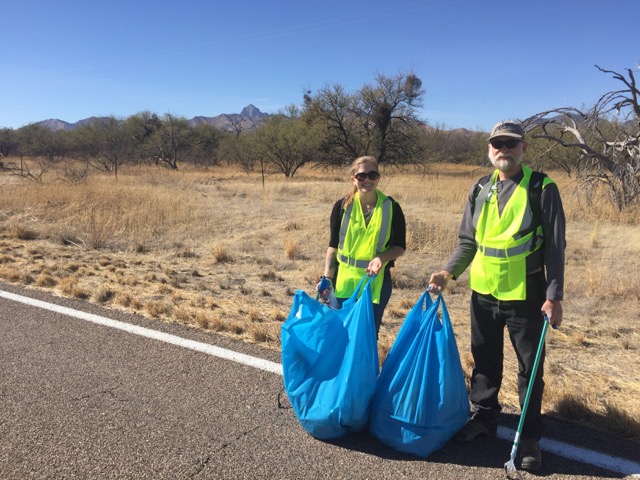 By Mary Currie / ADOT Communications
Melissa Owen of Rancho Sierra Vista de Sasabe calls the Altar Valley home. She is passionate about the pristine Sonoran Desert grassland region surrounded by Madrean Sky Islands of southeast Arizona along State Route 286. This part of the country to her is one of the most beautiful places she has ever been. Why someone would throw trash out of the car window into this scenic surrounding is a mystery to her.
As a testament to that, Melissa along with Kyle Thompson of the Altar Valley Conservation Alliance organized the, All the Way to the Border Highway Cleanup, litter clean up event on recent sunny morning in January. Sixty volunteers, including friends, family, neighbors, local groups, businesses and a couple traveling in from New Mexico met at the Three Points Community Center to begin the litter clean up. This year Trico Electric Cooperative and the San Fernando School Parents Association provided food for the volunteers throughout the day.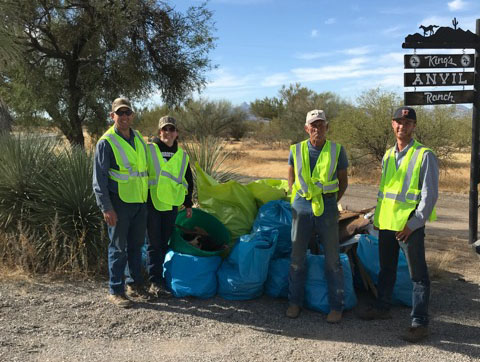 Eighty bags of litter and a couple of bicycles were picked up on a twenty-five mile stretch, that's more than half of the roadway between Three Points to the north and Sasabe at the southern Arizona/Mexico border.
Melissa's goal is a one-day clean up along the entire SR 286 route. She admits that organizing 60 volunteers is doable, but the estimated 200 required for an endeavor of that size would require more assistance from the community.
Asked what advice she would give to potential Adopt a Highway volunteers, Owen says cheerful enthusiasm and being a nag! People want to help. Communication is important, so monthly emails are sent leading up to the event date.
Melissa praised James (Andy) Moore of the Arizona Department of Transportation Tucson District Office for his enthusiasm and support during the permitting process. Walter Urbina and Edward Leon of the ADOT Maintenance office in Three Points were a great help by organizing and clearing brush for the volunteers. Moore says this litter cleanup was a joint effort between the permitting and maintenance groups. He believes this could be a good thing as others see what Melissa has done. It could start a new trend in keeping our roadways clean. Because of her effort, we also picked up three more Adopt a Highway permits from people that joined in the big clean up.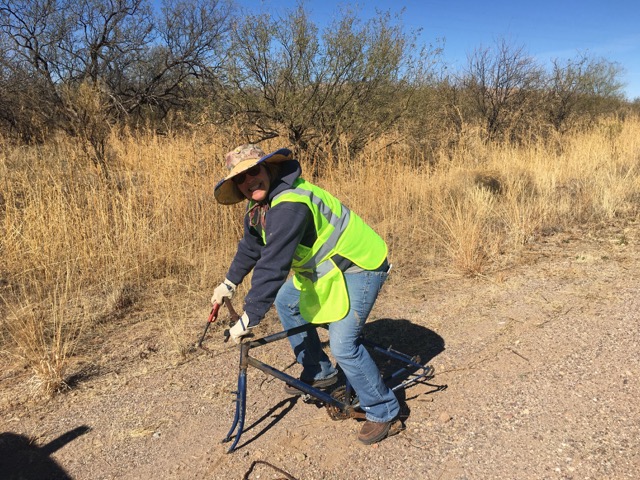 Thank you to the following groups and organizations who participated, and other individuals who joined in as the day progressed. Melissa Owen, Kyle Thompson, Rancho de la Osa, The Bland Family, Matt and Katy Foscue, Rancho Sierra Vista de Sasabe, Sierra Vista Hunt Club, Friends of Buenos Aires National Wildlife Refuge, Santa Margarita Ranch, Humane Borders, Dan and Monica King King's Anvil Ranch, Altar Valley School District, GVR Hunting and Fishing Club, Arizona Game and Fish Department, Altar Valley Conservation Alliance, Diamond Bell Ranch Volunteers.
For more information about the ADOT Adopt a Highway Volunteer program please visit azdot.gov/adoptahighway.