Announcing this year's top Haboob Haikus
Announcing this year's top Haboob Haikus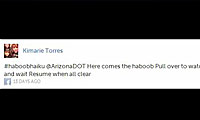 The results are in ... check the video above for a look at the top#HaboobHaikus from this year as voted on by the public!
Was your favorite chosen?
We'd be really hard-pressed if we had to pick our choice for the best haiku.
That's because every poem submitted this year helped build awareness of the important "Pull Aside, Stay Alive" message, which is what we hoped for at the start of Haboob Haiku: Year Two.
So, thank you to all the poets out there and thanks to everyone who voted.
Just because the winners have been announced, it doesn't mean this is the last time you'll see us writing about dust storms.
We will continue to use Facebook, Twitter and the blog to warn drivers of dust storm advisories and windy conditions out on the roads and you can bet we'll link to our driving tips over at PullAsideStayAlive.org at least a few more times during this monsoon season. All we ask of you is that you keep on helping us spread the word to your friends, family and fellow motorists!