From the Archives: ADOT goes to the state fair
From the Archives: ADOT goes to the state fair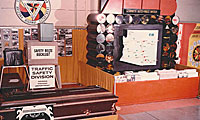 The State Fair has been an Arizona institution since before Arizona was even a state.
It got its start 128 years ago when a group of early settlers worked together and planned an event featuring agricultural exhibits, home economic displays and even some pony races, according to the Arizona State Fair's official website.
We imagine that original endeavor was notably different from the state fair everyone knows and loves today...
First of all, we're almost certain that nobody was selling any deep-fried cinnamon rolls back then.
And, it's a good bet that ADOT wasn't there yet either.
But we were there in 1973 (when ADOT was still known as the Arizona Highway Department) as these photos clearly show!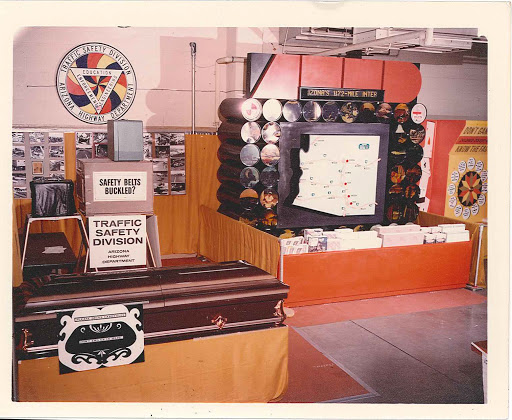 There's a lot to take in, but our attention is immediately drawn to the lit-from-behind Arizona interstate map in the photo above – compare it to a more modern map, and you can quickly see how much our state has grown.
And, we can't quite make out the text on the literature that was being handed out to fair-goers, but we definitely recognize the stack of Arizona Highways magazines – we're so glad that publication is still showing off the best scenes in the state!
Finally, did you notice the coffin that's staged in the Traffic Safety Division section of the booth (photo above right)? It likely intrigued all the fair-attendees that year. Traffic safety was, and still is, a serious matter and the message on the coffin is simple, but makes an impact. It reads: "Please Drive Carefully. Don't End Up in Here."
Now it's 40 years later and did you know that ADOT still has a presence at the annual Arizona State Fair? We'll be there when the fair rolls around again this fall and we hope you'll stop by and see us!
It's safe to say things have changed since 1912 when the Arizona Highway Department was first established. But you don't just have to take our word … we've got plenty of pictures to prove it. We combed through our archives and decided to periodically post these photos from the past in a blog series we're calling, "From the ADOT Archives."