Arizona Highways named best Instagram account of 2020
Arizona Highways named best Instagram account of 2020
By John LaBarbera / ADOT Communications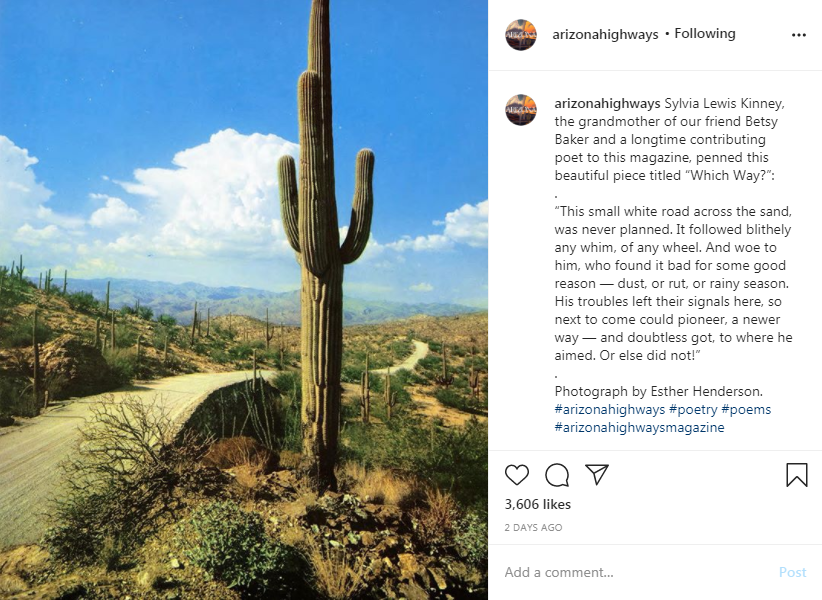 Last year, The Phoenix New Times bestowed ADOT with a wonderful honor: Naming us the best government agency Twitter for 2019.
Well, one year later and they have awarded ADOT a new social media accolade: Arizona Highways has been named the Best Instagram account in their 2020 Best of Phoenix issue.
You'll get no argument here! 
Arizona Highways started life as a 10-page pamphlet more than 99 years ago in July, 1921. It launched its familiar magazine format in 1925 and has served as a bastion of Arizona's allure ever since.
A few years ago, Arizona Highways entered the digital age with an Instagram account that dazzles and delights its more than 121,000 followers from all over the world.
A fun snippet from the New Times kudos states the magazine was once banned by the Soviet Union and other Eastern Bloc countries for being subversive: "The Arizona depicted in its pages — glorious desert sunsets, majestic mountain ranges, an almost impossibly romantic Western lifestyle — is so alluring that in 1965, the Soviet Union reportedly banned Arizona Highways on the grounds that it was propaganda."
If it's propaganda to show the beauty and geologic diversity of our great state, we are guilty as charged. And we're not kidding about that diversity. Deserts aside, Arizona is home to lakefronts, pine trees, snow, mountains and green, green grass. Arizona Highways' Instagram account can show you all of that and more.
If you're in the mood for unbeatable Arizona visuals, follow Arizona Highways on Instagram and never look at the Grand Canyon State the same way again.